"Top Five Global Trends that Will Shape the Food Industry in 2021" released by ADM indicates that the global health crisis has changed consumer preferences. Over 50% of consumers prefer the foods and beverages that naturally contain beneficial ingredients. About two-thirds of consumers want to have a positive impact on the environment through buying sustainably produced items. According to ReportLinker, the clean label ingredients market is estimated to reach USD 64.1 billion by 2026. In addition, the data provided by FamilyMart and The CommonWealth Magazine show that about 92% of the Taiwanese population pay attention to the food additive content and 80% are willing to spend more for the items that contain less or even no food additives.
      With over 20 years of experience in research and development, numerous patent dosage forms, and approximately 40 thousands formulae, we have become our clients' health business consultant and sold our products to 51 countries worldwide. In 2021, we demonstrate our sustainability commitment and develop PK333 probiotics which are certified Tse-Yue Clean Label. By acting in accordance with the manufacturing guidelines such as being non-GMO and free from additives, exercising information transparency, implementing simplified manufacturing process, and only adding in one-tenth of the amount of food additives allowed for each product, we illustrate the concept of Less Is More!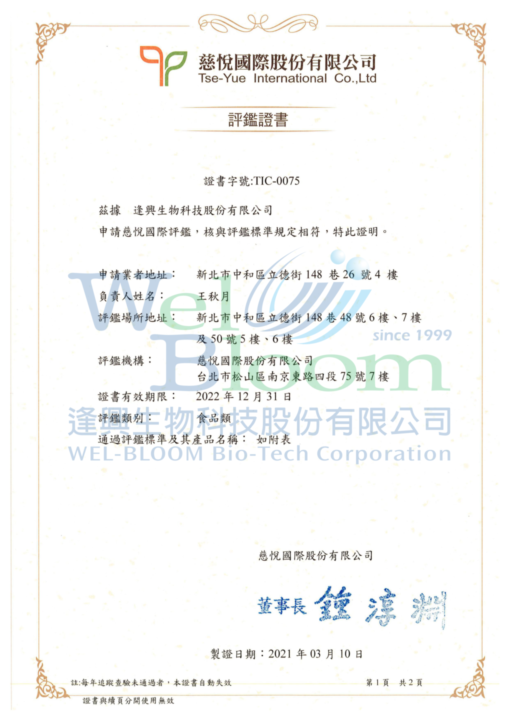 We have been winning the Monde Selection Gold Award for four consecutive years and we are determined to provide our clients the innovative solutions required to meet the customers' needs in this ever-changing marketplace.
Reference resources:
Know more about Tse-Yue Clean Label
http://www.cy-clean.com/%E9%97%9C%E6%96%BC%E6%85%88%E6%82%85/