Wel-Bloom, the pioneer of functional jelly manufacturer talks about FRESH Jelly™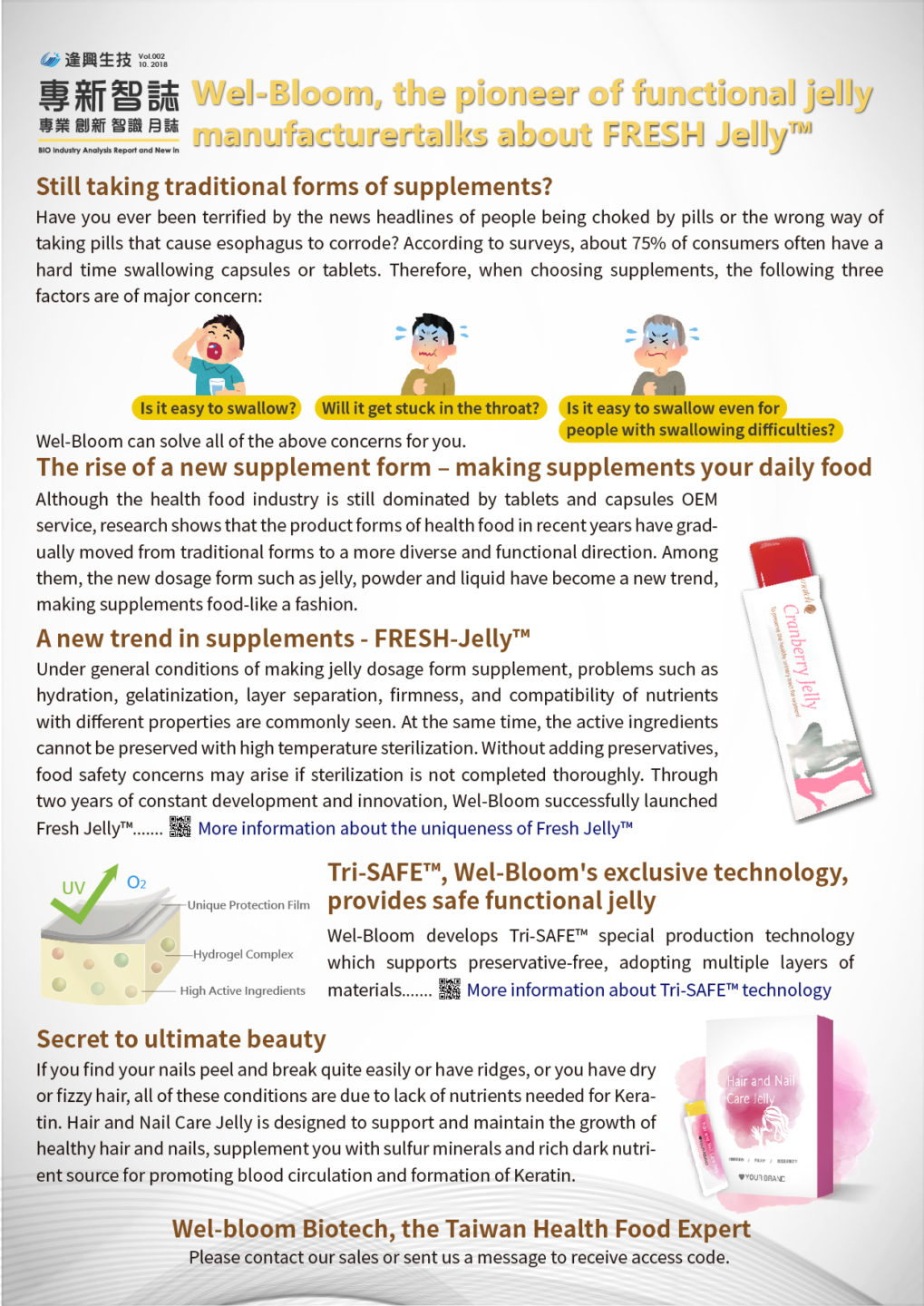 Still taking traditional forms of supplements?
Have you ever been terrified by the news headlines of people being choked by pills or the wrong way of taking pills that cause the esophagus to corrode? According to surveys, about 75% of consumers often have a hard time swallowing capsules or tablets. Therefore, when choosing supplements, the following three factors are of major concern:
Is it easy to swallow? Will it get stuck in the throat? Is it easy to swallow even for people with swallowing difficulties? Wel-Bloom can solve all of the above concerns for you.
The rise of a new supplement form – making supplements your daily food
Although the health food industry is still dominated by tablets and capsules OEM service, research shows that the product forms of health food in recent years have gradually moved from traditional forms to a more diverse and functional direction. Among them, the new dosage form such as jelly, powder, and liquid has become a new trend, making supplements food-like a fashion.
A new trend in supplements – FRESH-Jelly™
Under general conditions of making jelly dosage form supplement, problems such as hydration, gelatinization, layer separation, firmness, and compatibility of nutrients with different properties are commonly seen. At the same time, the active ingredients cannot be preserved with high-temperature sterilization. Without adding preservatives, food safety concerns may arise if sterilization is not completed thoroughly. Through two years of constant development and innovation, Wel-Bloom successfully launched Fresh Jelly™……More information about the uniqueness of Fresh Jelly™
Tri-SAFE™, Wel-Bloom's exclusive technology, provides a safe functional jelly
Wel-Bloom develops Tri-SAFE™ special production technology which supports preservative-free, adopting multiple layers of materials…More information about Tri-SAFE™ technology
The secret to ultimate beauty
If you find your nails peel and break quite easily or have ridges, or you have dry or frizzy hair, all of these conditions are due to lack of nutrients needed for Keratin. Hair and Nail Care Jelly is designed to support and maintain the growth of healthy hair and nails, supplement you with sulfur minerals and a rich dark nutrient sources for promoting blood circulation and formation of Keratin.
Reference resources:
Global Nutraceuticals Market: Snapshot
https://www.transparencymarketresearch.com/global-nutraceuticals-product-market.html
Taiwan health food industry overview 2015
https://www.functionalfood.org.tw/pld/survey2015.pdf
Wel-bloom Biotech, the Taiwan Health Food Expert

If you what to know more, please contact our sales for more information or 
Go to the product's page to request for quote