A New and Special way to be healthy—Healthy Snack Trends!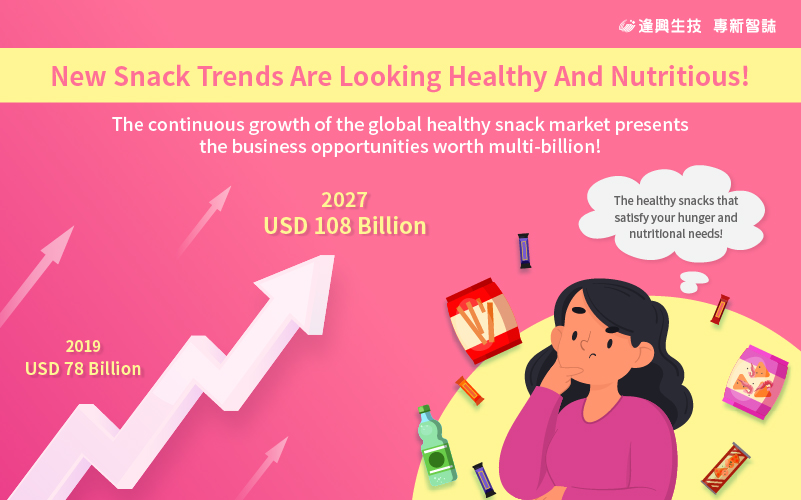 There is no doubt that people nowadays tend to be more health-conscious and willing to try different types of healthy diets such as the Mediterranean diet, Vegetarianism, and Keto diet. New dietary trends come out every now and then. Right now, there′s are an up-rising high protein trend, having a great impact on peoples′  daily diet, even the snack we choose, people are even coming up with high protein baked desserts to increase their protein intake.
Snacking is changing and consumers are now making more mindful and nutritional snacking choices. The Hartman Group indicates that instead of having dietary restrictions, people nowadays are looking for healthy snacks such as non-fried potato chips, nuts, and gluten-free cookies. Due to the busy work schedule, people are often snacking to satisfy hunger instead of following three meals a day. According to the report regarding consumers' snacking habits from Mintel, an incredible 37% of 25 to 34-year-olds say that they snack instead of having a proper meal at work at least once a week. With an explosion of healthy alternatives being launched, consumers are being more health-conscious and making smarter choices.
The healthy snack industry is booming because of the recent changes in dietary and lifestyle habits. Fortune Business Insights indicates that in 2019, the global healthy snack market already reached 78.13 billion U.S. dollars and is forecasted to reach 108.11 billion U.S. dollars by 2027, showing rapid growth with a CAGR rate of 4.2%.
Meanwhile, given the increasing demand for nutritious snacks, many companies start launching healthy snack products. For instance, Mondelez International takes a minor investment in Uplift Food Start-Up and launches digestion-supporting cookies. Beyond Better Foods, a New York City-based company develops the first-ever functional frozen fruit bars to help ease inflammation and promote relaxation.
Reference Information:
1. Snacking is changing: get on board with the trend for smarter, healthier choices
https://www.thegrocer.co.uk/consumer-trends/snacking-is-changing-get-on-board-with-the-trend-for-smarter-healthier-choices/597656.article
2. Global High Protein Snacks Market 2019-2026
https://www.datamintelligence.com/research-report/high-protein-snacks-market
 3. Fortune business insights- Healthy Snacks Market Size
https://www.fortunebusinessinsights.com/industry-reports/healthy-snacks-market-101454
4. Snack trend evolution-Food Business News
https://www.foodbusinessnews.net/articles/16222-snack-trend-evolution
Healthy High-Protein Snacks Promote Sarcopenia Prevention!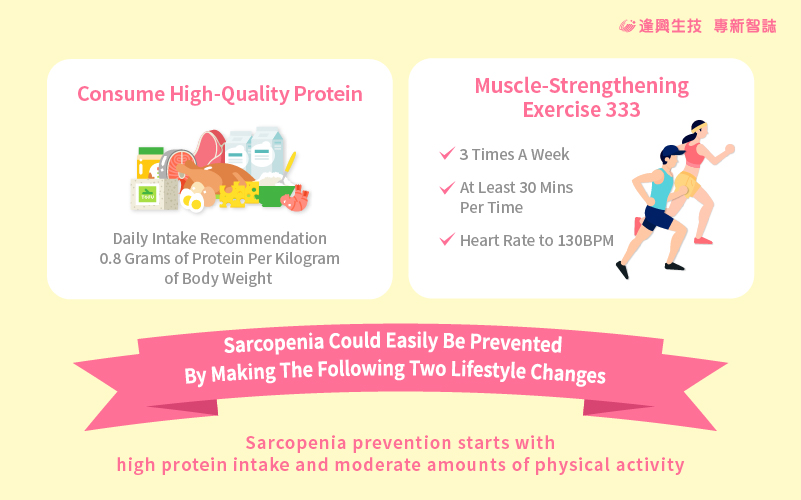 Healthy snack supplements, especially high-protein snacks fortified with functional ingredients are becoming more and more popular and protein bars are the most common protein-rich snacks. According to Fortune Business Insights, the protein bar market alone is projected to reach 7.03 billion U.S. dollars by 2027. Besides, related products such as high-protein cookies, brownies, and ice cream keep coming out.
The rising awareness on the health benefits of protein gives the increasing demand for high protein food and people now are focusing more on getting enough protein.
The human body is made up almost entirely of protein which helps the body repair cells and tissues. Although protein deficiency usually shows no symptoms at the initial stage, many health issues such as low muscle mass, muscle weakness, joint pain, higher risk for bone fracture, etc. may develop in a long run. Sarcopenia is a common condition that affects older adults and the prevalence of sarcopenia will increase with the remarkable rise in life expectancy. It is highly recommended to understand the consequences of Sarcopenia and start the protein replenishment before it gets too late.
Sarcopenia is mainly composed of three elements which are low muscle mass, reduced muscle strength, and impaired physical performance.
Definition and diagnostic criteria for sarcopenia have been outlined. Having more items lowering the normative value indicates much more severity of muscle loss. Stage 1, Pre-sarcopenia is characterized by a decreased muscle mass only. Stage 2, Sarcopenia is low muscle mass accompanied by either decreased muscle strength or performance. Stage 3, severe Sarcopenia is defined by a decrease in all three parameters.
Having adequate nutrient intake with regular exercise is preferable to medication and is considered the best way to prevent Sarcopenia. Under normal kidney function, the daily intake recommendation is 0.8 grams of protein per kilogram of body weight. If you weigh 50 kilograms, it is recommended to consume 40 grams of protein each day. On the other hand, strength training could increase muscle mass and stamina, improving muscle strength in a long run with increased protein consumption. As for the strength training frequency, it is recommended to follow the "exercise 333" concept which advises everyone to exercise three or more times a week, at least 30 minutes each time with the heart rate elevated to 130 BPM. Besides, protein deficiency has been demonstrated to contribute to poor healing rates and weakened immune systems.
Having adequate protein intake provides other health benefits such as increasing satiety, burning fat, and boosting metabolism.
Although calorie intake increases with food consumption, energy is used to digest the food we eat. Compared to other types of food, more calories are burned when digesting protein, which supports weight loss.
It is well established that protein is more satiating than carbohydrate or fat under most conditions. Protein could stimulate the body to release satiety hormones which send signals to the brain telling us that we are full.
Protein could increase your metabolism since more calories are required for digestion. Consuming high-protein foods could increase the metabolic rate by 15-30%.
There is no doubt that proteins are essential nutrients for the human body. The fast-growing high protein snack market reflects the increasing consumer demand for a healthy protein-rich diet.
In order to increase the competitiveness of your product, Wel-Bloom launches healthy and delicious high-protein snacks based on the latest supplement trends. Please see our next column for more details.
If wishing to know more regarding the nutrients we utilize, contact us for the password and check out our next column: Snack Time Just Got A Lot Healthier –Low-Cal Protein Soufflé catching up with Healthy Snack Trends!-Part. 02  for more information.
Wel-Bloom Bio-Tech, experts in dietary supplement foods research and development in Taiwan