A Rising Star of Functional Food Market: FRESH-JellyTM
Although the health food industry market is still dominated by tablet and capsule OEM service, according to the survey, the trend of health food in recent years has gradually replaced capsules and tablets with new types of health food dosage forms such as powder, health drinks, and functional jelly.
Reference resources:
Studies on Supplement Market
https://www.bevindustry.com/articles/93480-study-shows-covid-19-has-shifted-supplement-market
In the course of research and development of innovative health food, Wel-Bloom Biotech has developed a new formulation in two years: FRESH-Jelly, which combines delicious, easy swallowing, and fast absorption. At the same time, Wel-Bloom's R&D team can customize clients' products in function, taste, texture, and packaging. The production line has also obtained HALAL certification, which provides clients with exclusive products when moving into different markets.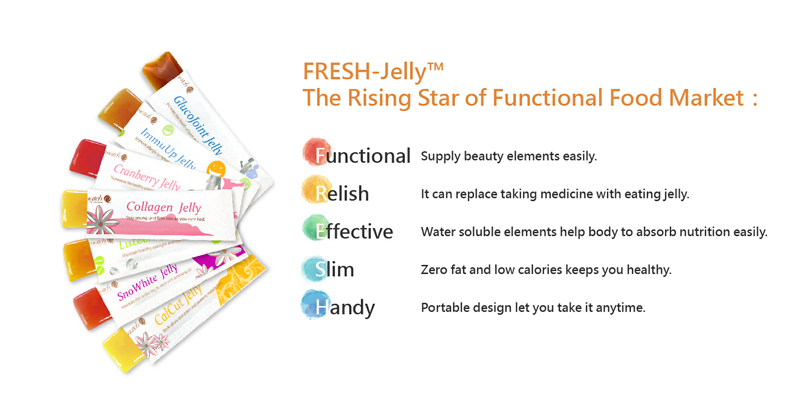 Tri-SAFETM, Wel-Bloom's exclusive technology, provides safe functional jelly.
Wel-Bloom is a GMP-certified health food manufacturer. We are one of three health food manufacturers that obtained NSF-GMP in Taiwan. Through exclusive three-layered Tri-SAFE™ technology, all FRESH-Jelly™ are guaranteed to contain no preservatives. Tri-SAFE™ technology maximized ingredient activity, together with ideal flavor and top-quality standard, allowing consumers to take it at ease.
Multi-FIS COMPLEX,  The Way to Keep FRESH-Jelly™ 's Ingredients be high Active.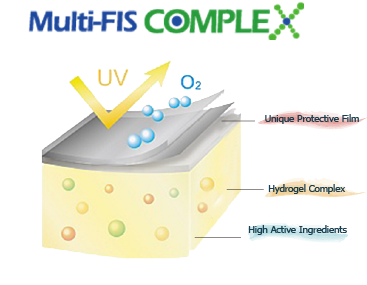 1. Unique Protective Layer
Contains multiple layers of protective materials that can block UV light, oxygen and protect ingredient activity
2. Hydrogel Compl

ex
The special herbal hydrogel helps disperse active ingredients evenly for better absorption.
3. High Active Ingredients
Being different from pill and capsule supplements, it can contain a high dose of active ingredients accordingly to different functional focuses.
We will be exhibiting the advantages of FRESH-Jelly's at Vita Foods Asia booth Q17 in Singapore 9/11-9/12. Our focus is to provide a delicious, effective, and convenient supplement. We welcome you to share with us your idea of a health supplement!
Feel free to contact us for more information 
Or register now for free admission into Vita Foods Asia