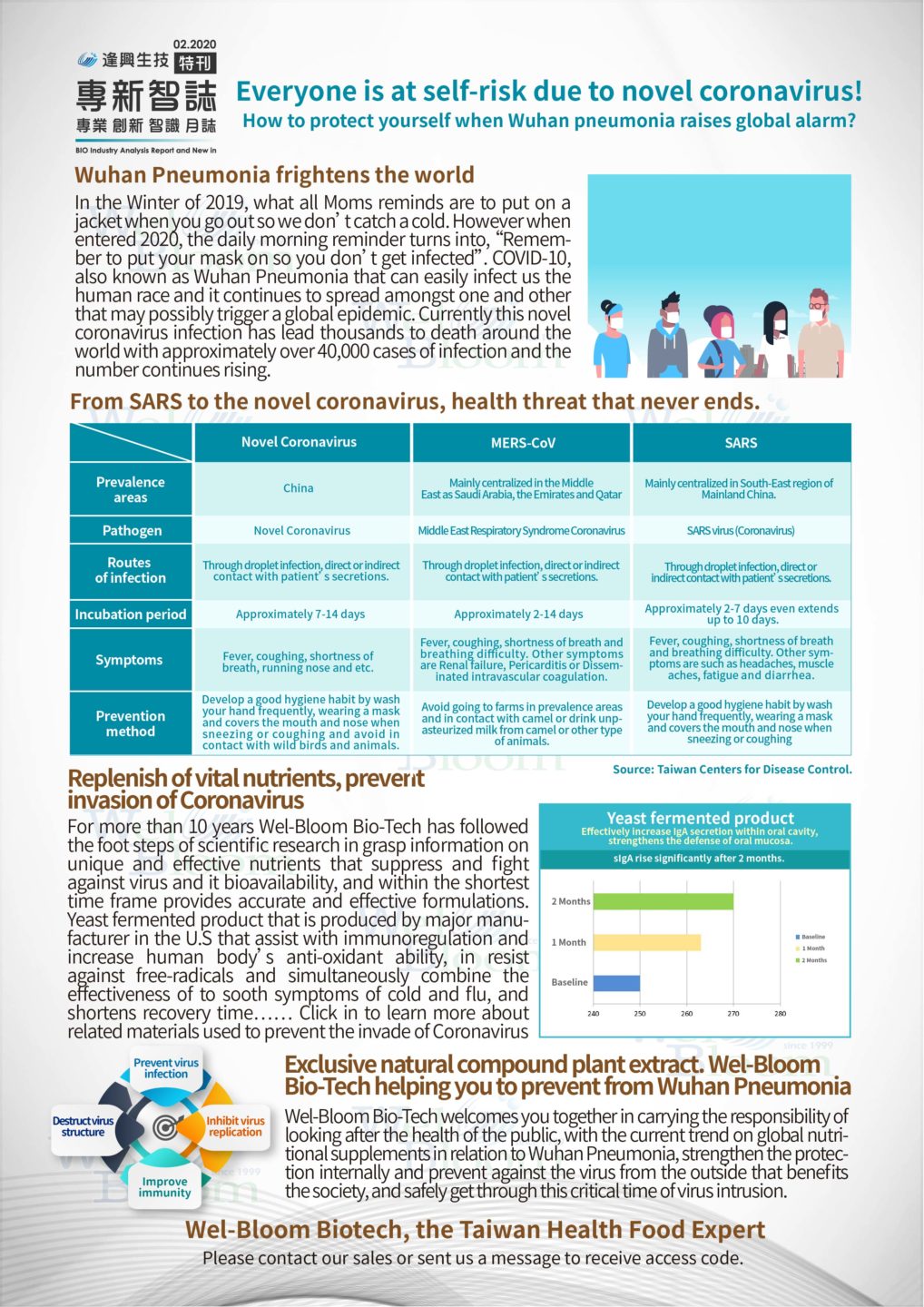 Wuhan Pneumonia frightens the world
In the Winter of 2019, what all Moms reminds are to put on a jacket when you go out so we don't catch a cold. However when entered 2020, the daily morning reminder turns into, "Remember to put your mask on so you don't get infected". COVID-19, also known as Wuhan Pneumonia that can easily infect us the human race and it continues to spread amongst one and other that may possibly trigger a global epidemic. Currently this novel coronavirus infection has lead thousands to death around the world with approximately over 40,000 cases of infection and the number continues rising.
 

From SARS to the novel coronavirus, health threat that never ends.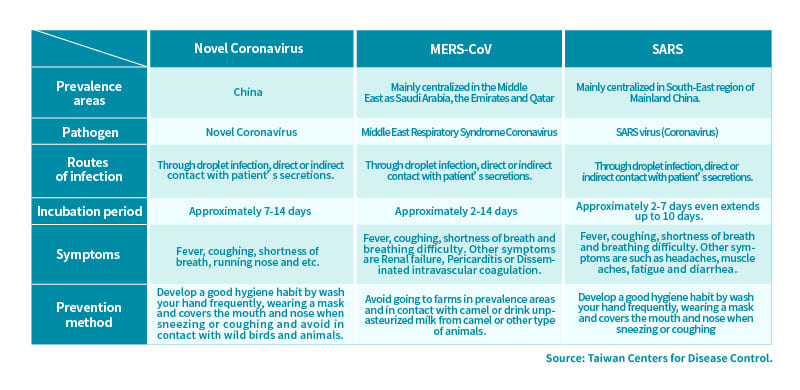 Replenish of vital nutrients, prevent invasion of Coronavirus

For more than 10 years Wel-Bloom Bio-Tech has followed the footsteps of scientific research in grasping information on unique and effective nutrients that suppress and fight against virus and its bioavailability, and within the shortest time frame provides accurate and effective formulations. Yeast fermented product that is produced by a major manufacturer in the U.S that assist with immunoregulation and increase human body's anti-oxidant ability, in resist against free radicals and simultaneously combine the effectiveness of to soothe symptoms of cold and flu, and shortens recovery time…… Click in to learn more about related materials used to prevent the invade of Coronavirus.

Replenish of vital nutrients, prevent invasion of Coronavirus
Wel-Bloom Bio-Tech welcomes you together in carrying the responsibility of looking after the health of the public, with the current trend on global nutritional supplements in relation to Wuhan Pneumonia, strengthen the protection internally and prevent against the virus from the outside that benefits the society, and safely get through this critical time of virus intrusion.
Reference resources:
          COVID-19, MERS & SARS
          https://www.niaid.nih.gov/diseases-conditions/covid-19
         From SARS and MERS to COVID-19
          https://respiratory-research.biomedcentral.com/articles/10.1186/s12931-020-01479-w
         Middle East respiratory syndrome coronavirus
          https://www.who.int/health-topics/middle-east-respiratory-syndrome-coronavirus-mers#tab=tab_1
         SARS Basics Fact Sheet
          https://www.cdc.gov/sars/about/fs-sars.html
         Severe Acute Respiratory Syndrome
          https://www.who.int/health-topics/severe-acute-respiratory-syndrome#tab=tab_1
         Middle East Respiratory Syndrome (MERS)
          https://www.cdc.gov/coronavirus/mers/about/index.html
To know more information, please contact us.
or please send the email to service@welbloom.com.tw, and we will serve you with our full attendance.
Reading previous supplement industry report: Vol18: Demystify gut health by Wel-Bloom Bio-Tech Leading you to the perfect road of life