Our Global Inter-net of Health, Drive Your Healthcare Business To The Way Of Wealth.
逢興生物科技-MIT全球健聯網 健康商機顧問
Wel-Bloom offers you unique and innovative ODM service for health food.
1.Wholesale- start your health business immediately.
2.Private Label-your brand will be delivered soon.ly..
3.Customized ODM-unique formulation only for you.
逢興生物科技提供保健食品市場營銷的差異化與創新化服務

1.快-代理批發:成品直銷馬上開店
2.狠-貼牌代工:自有品牌小量出貨
3.準-全客製化:獨家配方專業生產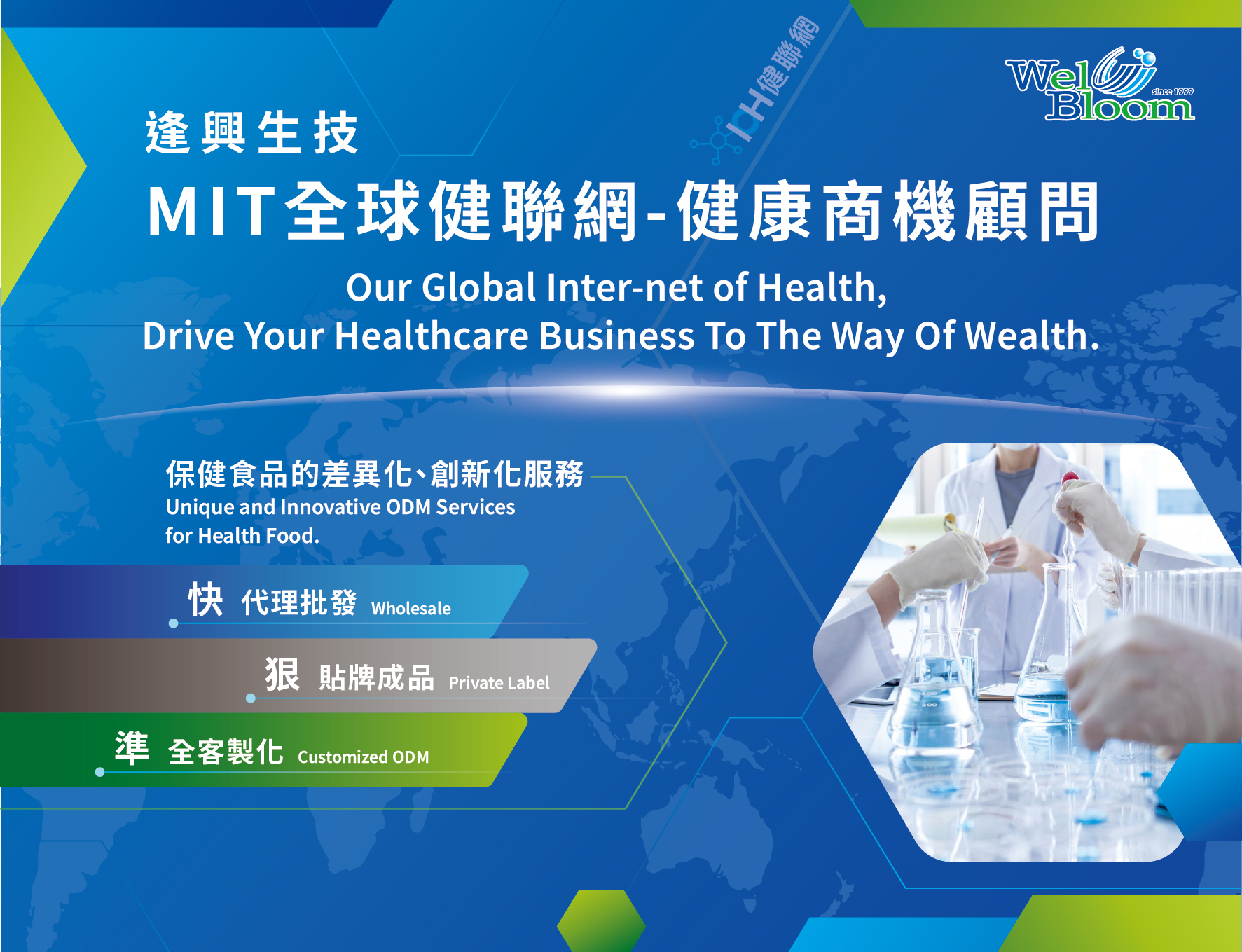 Start your Health business in a best way with Wel-Bloom.
 Meet us at 2019 HALAL Pro TAIWAN  #B0305
讓你以最適當的姿態投入保健食品市場
與你相約在 2019 台灣清真展 展位 #B0305
The 7th Taiwan International HALAL Expo
Exibition Date: 19/6/2019 (Wed) – 22/6/2109 (Sat)
Exibition Time: 09:00 – 18:00 (Wed) – (Fri)
09:00 – 17:00 (Sat)
Exibition Location:
Taipei World Trade Center Hall 1
 No.5, Sec. 5, Xinyi Rd., Xinyi Dist., Taipei City 110, Taiwan (R.O.C.)
Our Stand: B0305
—————————–
2019年台灣國際清真產品展
展出日期:2018年6月19日(三) – 6月22日(六)
展出时間:星期三 – 星期五 09:00 – 18:00
星期六 09:00 – 17:00
展出地點:台北世界貿易中心展覽大樓一樓
(臺北市信義區信義路5段5號1樓)
展出位置:B0305