​
Since 1999, Wel-Bloom Bio-Tech has been dedicated to the research and development of healthy food products and continues to make breakthroughs and innovations to produce tastier and more effective dietary supplements for all people. With the rising pet population around the world, more people see pets as family members and care more and more about their health. In response to this new business trend and the industry upgrade, WelPet, a subsidiary of Wel-Bloom, was established in 2018, specializing in the R&D and manufacturing of pet health food.  Inheriting the parent company's experience and resources, WelPet is committed to doing its best. We have invested a lot in R&D and quality control and set the goal to attain the highest quality certification in the world, the SQF (Safe Quality Food) Level 3 Diamond certification.
SQF is the only certification that combines both "operational excellence" and "product quality ". Only the SQF Level 3 certified sites can apply the SQF quality shield, the white tick on the blue background, to the packaging of products. Therefore, the difficulty of obtaining this certification can be imagined!
Concerned about pet food safety in Taiwan
Have you ever taken a closer look at the labels on your pet's snacks and health products that make you feel safe buying and providing them? In addition to the patented brand ingredients and SGS testing listed on the official website, is there any reliable third-party organization that can help you regularly check and ensure the food safety and quality for your fur babies?  The SQF Level 3 Diamond certification is the answer.
 
WelPet became the first pet food manufacturer in Taiwan to attain SQF Level 3 certification.
WelPet Bio-Tech currently is the first and only pet health care product manufacturer in Taiwan that has obtained the SQF Level 3 certification, and its own brand PetWell products perfectly represent WelPet's commitment to food safety for fur babies.  We hope all the efforts will raise attention to food safety in the pet food industry in Taiwan.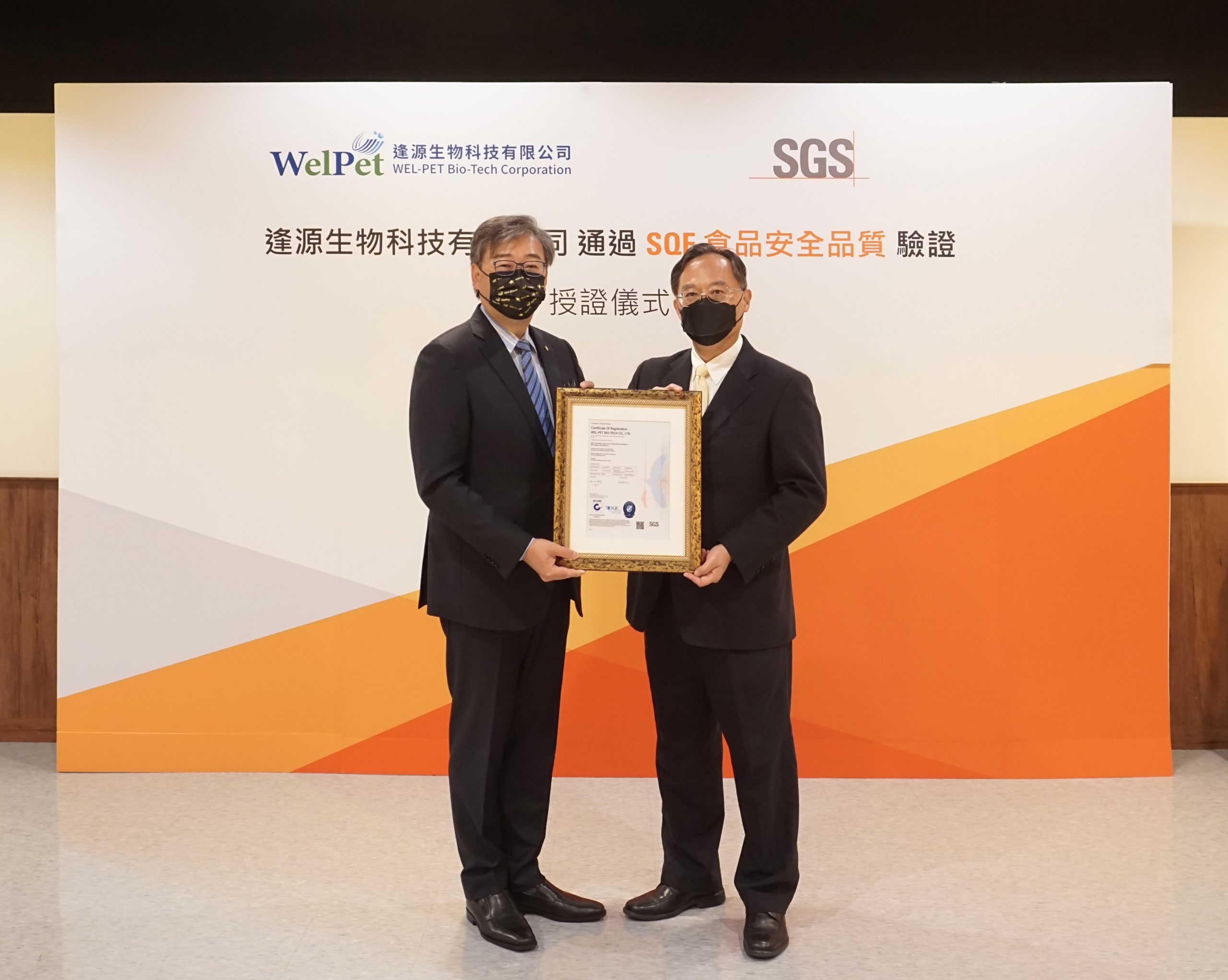 What is the "SQF Quality Shield" with a white tick on a blue background?
SQF is a global standard for food safety and only SQF-certified sites can be accepted as a supplier of leading US brands, such as Costco, Walmart, and McDonald's.  As one of the food safety standards like ISO22000, FSSC22000, or HACCP, SQF differentiates itself by emphasizing systematic control of food safety as well as quality. It is a widely accepted standard by most brands and suppliers in the United States, Australia, Japan, and Korea. "SQF Quality Shield" in blue with a white tick is only allowed to be used for the products that have passed SQF Level 3- the highest level qualification within the standard. The certification is valid for only one year and the certified site is required to apply for a recertification audit every year.
Global Food Safety Initiative (GFSI) is a non-profit international organization formed in 2000 by more than 650 global food supply chain leaders across 70 countries with the objective to integrate global food safety standards and improve the cost efficiency of the food supply chain. SQF is one of the few food safety management systems recognized by GFSI.  As an SQF-certified brand means that its food is produced, processed, prepared, and handled to meet the highest possible food safety standards at all levels of the supply chain and is monitored by an independent third-party certification body.  SQF is a "farm-to-fork" food safety and quality verification solution.
SQF Three-level Programs
SQF code has been updated to Edition 9 and was implemented in May 2021.
There are three levels of certification for the SQF standard:
Level 1: Food Safety Fundamentals
Level 2: Food Safety Code
Level 3: Quality Code
Only by meeting the Level 3 Quality Code standard, the "SQF Quality Shield" can be used on product packaging and the promotion materials, which means that food safety and quality are guaranteed by rigorous audit.
According to SQF Certified Site Directory, by the end of April 2022, only 22 manufacturers in Taiwan, including Wei Chuan, Taishun, Standard Foods, and King Car, had passed the SQF Food Safety Audit Edition 9.  In the Pet Food Manufacturing category, WelPet is the first and only pet health food manufacturer to obtain the highest Level 3 certification.
WelPet Bio-Tech is dedicated to grasping pets' health care business opportunities together with you.
Based on its parent company's rich R&D and manufacturing experience in human health food, WelPet works with you to seize the business opportunity in the pet health market through rigorous market research, branded ingredients from all over the world, formulas developed by the professional pet nutrition team, and, last but not least, the production line with SQF Level 3 diamond certification that adds value to your brand.