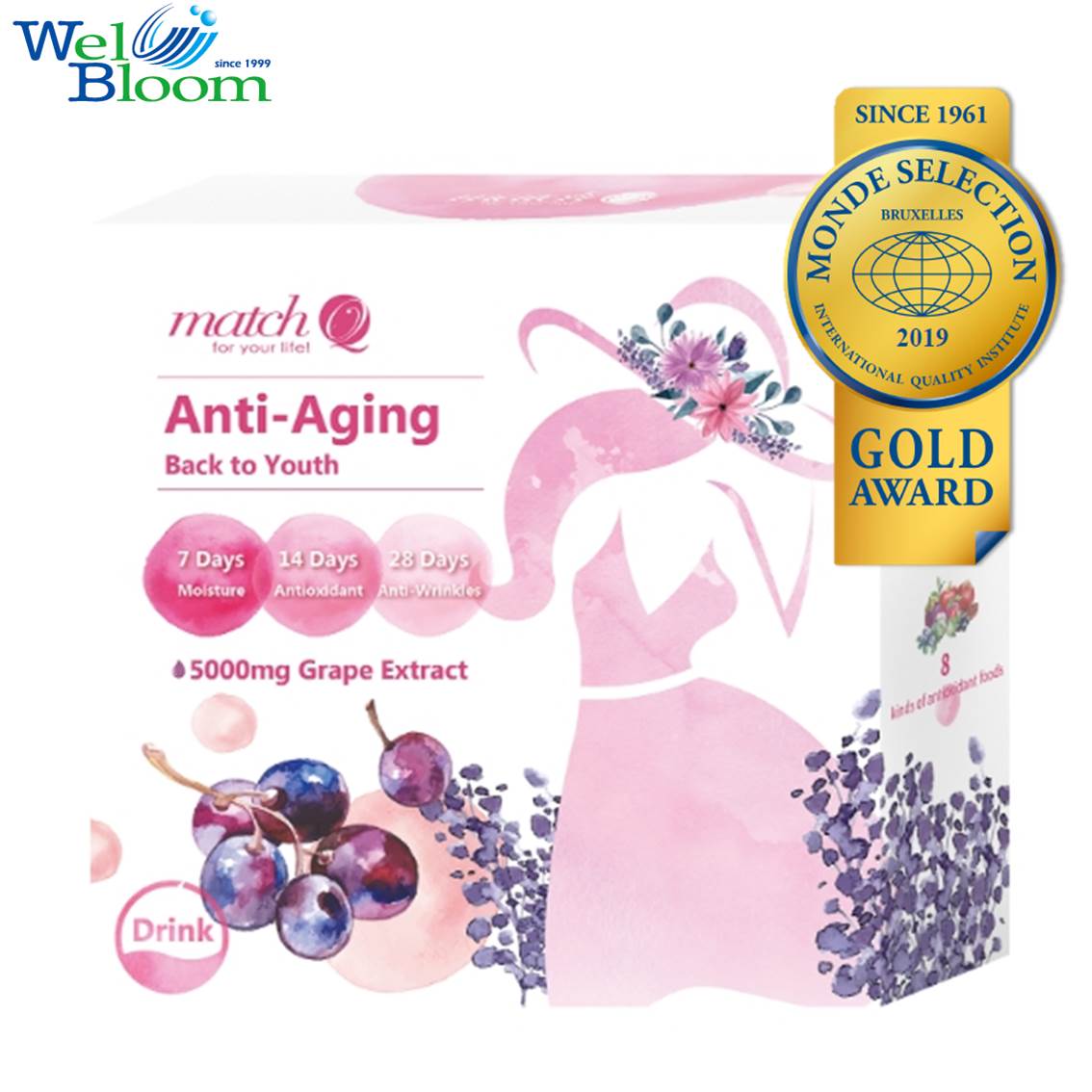 Match Q Anti-Aging Drink
The amount of resveratrol in Anti-Aging Drink is equivalent to 688 glasses of red wine contains, it can prevent us from getting cardiovascular disease.
Monde Selection awarded
Ingredients:
resveratrol, Acerola Extract, Grape extract
Products are made in:Taiwan
Certification:
SGS ISO 9001, SGS ISO 22000, HACCP, NSF Dietary Supplement, GMP, Halal
Please request for quotation if you are interested in our products.
We will contact you immediately.
Description
Anti-Aging Health Supplement Drink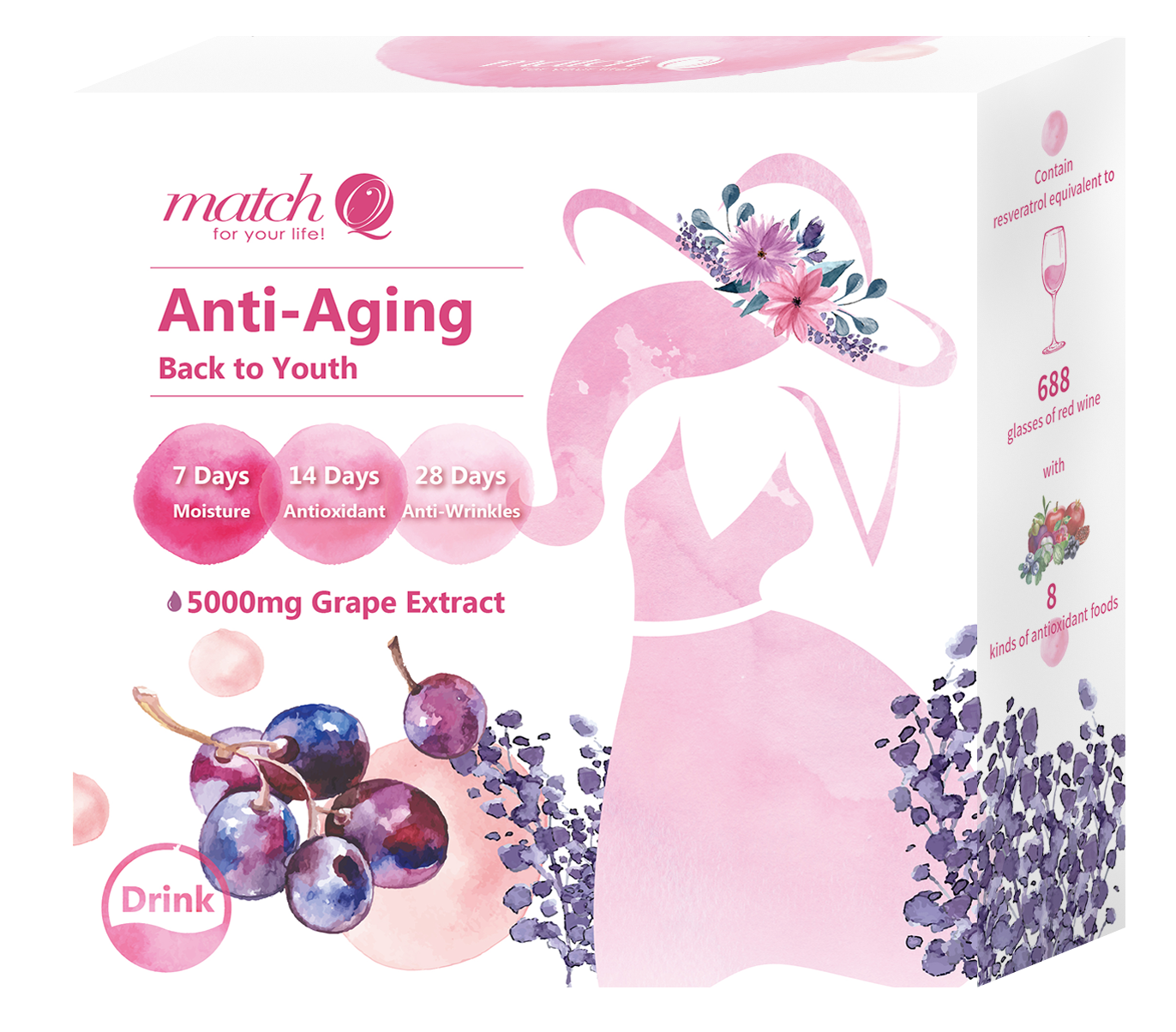 Maintain skin hydration, reduce tumor formation, and prevent cardiovascular disease.
Improve immunity system, prevent bacteria infection and cancer growth.

Prevent skin damage from UV radiation. High antioxidative ability to help reduce liver inflammation.

Enhance elasticity of vascular tissue and reduce blood cholesterol. Prevent hypertension, stroke and cardiovascular disease.

Prevent free radicals from damaging eyes, enhance visual function and prevent night blindness.

Rich in antioxidant, essential fatty acids, amino acids, fiber, which helps promote cardiovascular health, lowering cholesterol, and boost digestive health.

Prevent melanin formation due to UV radiation, reduce collagen loss, and clearing free radicals to maintain healthy skin.
Our Beauty is Destroyed
Our beauty may be destroyed by these problems: staying up late, smoking, bad dietary habit, work pressure, UV light damage…and so on.
And the free radicals damage the skin and make everyone old. Wel-bloom's Antioxidant Drink can solve this problem!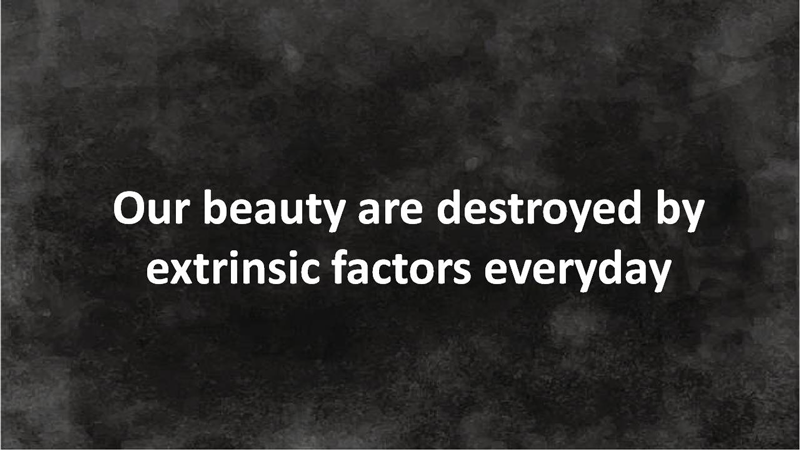 Why Do We Grow Old? 
When free radicals is larger than antioxidant in our body, our oxidation is damaged.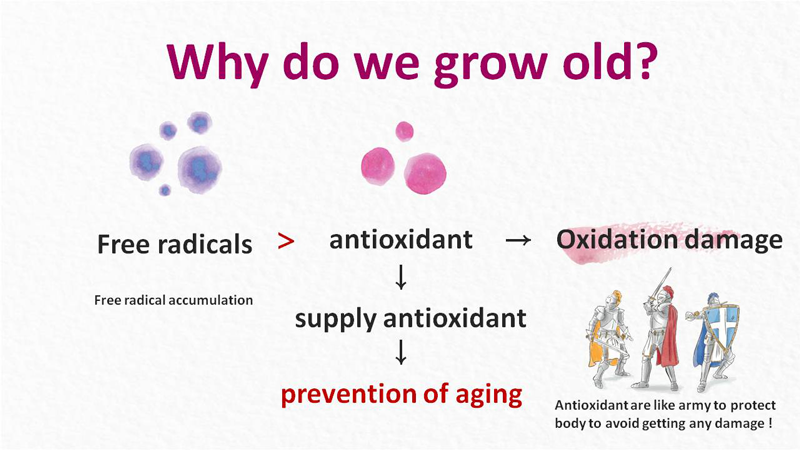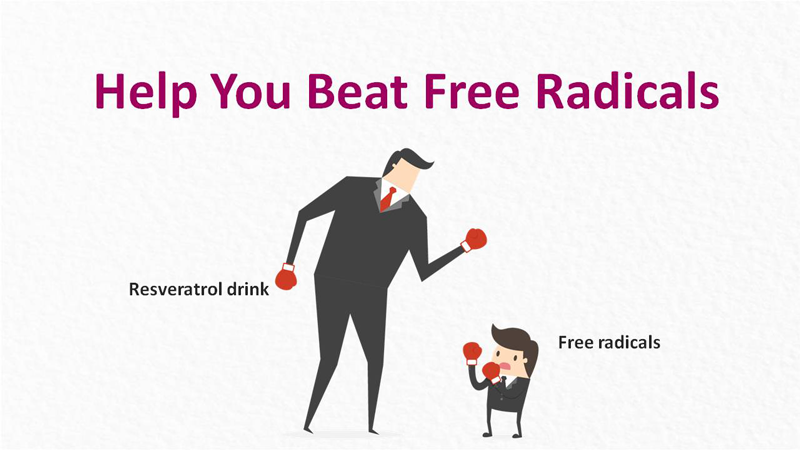 Resveratrol help you live better
It contains 200mg Resveratrol in every sachet, which is equivalent to 688 glasses of red wine.

It can reduce water loss from skin, and help skin keep hydrating.

It has antioxidant function which can clean free radicals, improve immunity and inhibit tumor formulation.

It helps to prevent cardiovascular diseases, for example, Antithrombotic, Vasodilation, atherosclerosis.




6 Important Benefits of Anti-Aging Drink
1. Tasty Flavor – Anti-Aging Drink is flavored with fresh grape juice, we provide a tasty solution to stay young without swallowing pills and capsules. 
2. Natural – Our natural ingredients come from well certified product provider with clinical study and research paper.
3. Protect Cardiovascular – The amount of resveratrol in Anti-Aging Drink is equivalent to 688 glasses of red wine contains, it can prevent us from getting cardiovascular disease.
4. Antioxidant – Anti-Aging Drink contains 8 kinds of anti-oxidative foods, it can help us to reverse damage from free radical. It makes healthy life way easier to achieve. 
5. Back to Youth – Anti-Aging Drink can makes your skin more moisture and reduce wrinkles within a month. It makes you become younger from inside out.
6. Unique Patented Package – Anti-Aging Drink is packed wth our unique patneted package with beautiful designed shape, it's easy to tear up and also a handy design that is convenient to have it anywhere, anytime.