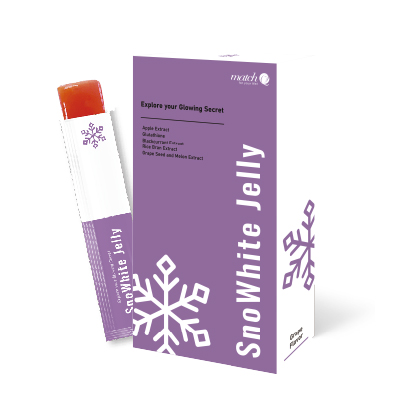 Wholesale Diet Glutathione supplement -Skin Whitening Jelly
Glutathione Supplement for Skin Whitening 
An effective whitening formula aims for following conditions – anti-melanin synthesis, liver detoxification, natural extracted glutathione, and skin regeneration. 
Ingredients:
Glutathione, Ascorbate(Vitamin C), Locust Bean Gum, Black Currant Extract……..etc
Products are made in:Taiwan
Certification:
SGS ISO 9001, SGS ISO 22000, HACCP, NSF Dietary Supplement, GMP, Halal
Please request for quotation if you are interested in our products.
We will contact you immediately.
Description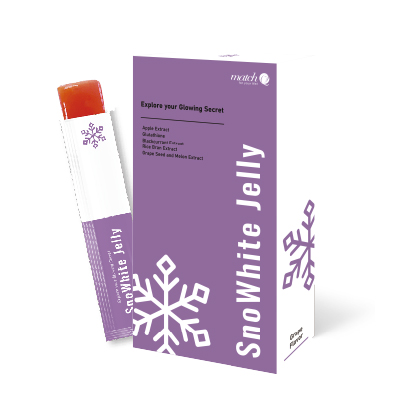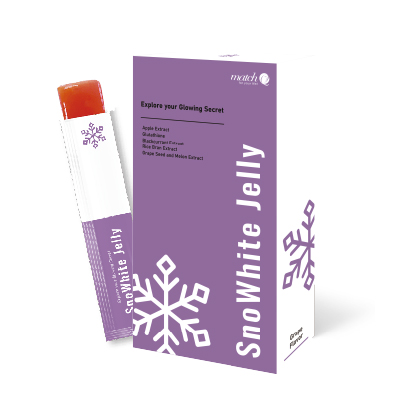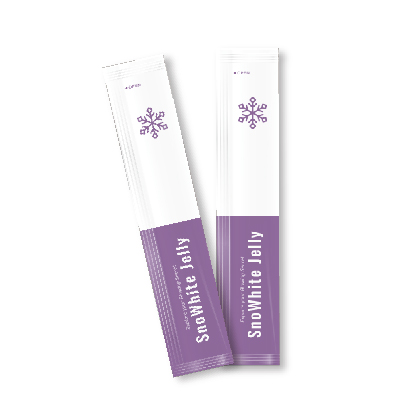 We provide wholesale diet supplements such as this skin whitening jelly- Match Q Glutathione Jelly. 
 It helps maintains skin whitening with antioxidants!
1.This glutathione supplement for skin whitening aims for following conditions – anti-melanin synthesis, liver detoxification, natural extracted glutathione, and skin regeneration. 
2. Match Q Glutathione jelly not only have great function, it also has great tasty sensations. Our SFE-LAB (Smart Food Engineering- Lab) ensures each product's effectiveness met buyers' highest expectation.
3. We use various patented ingredients, designed by various University labs, to ensure the quality and effectiveness of the formula. Several papers support the effectives of clinical benefits.
4. Our international legal team provides various certifications for importing and marketing needs, such as NSF-GMP, ISO, HACCP, and HALAL. Wel-Bloom assists in finding the easiest way to import into your country.
5. A convenient slim packaging allows Wel-Bloom's Collagen Jelly be easily carried around, allow users to enjoy the tasty supplement at any moment. Remember, skin beauty needs to be maintained, and it can be done in a delicious way.
Still battling with "the Dark Force"? Do you lose confidence without PS?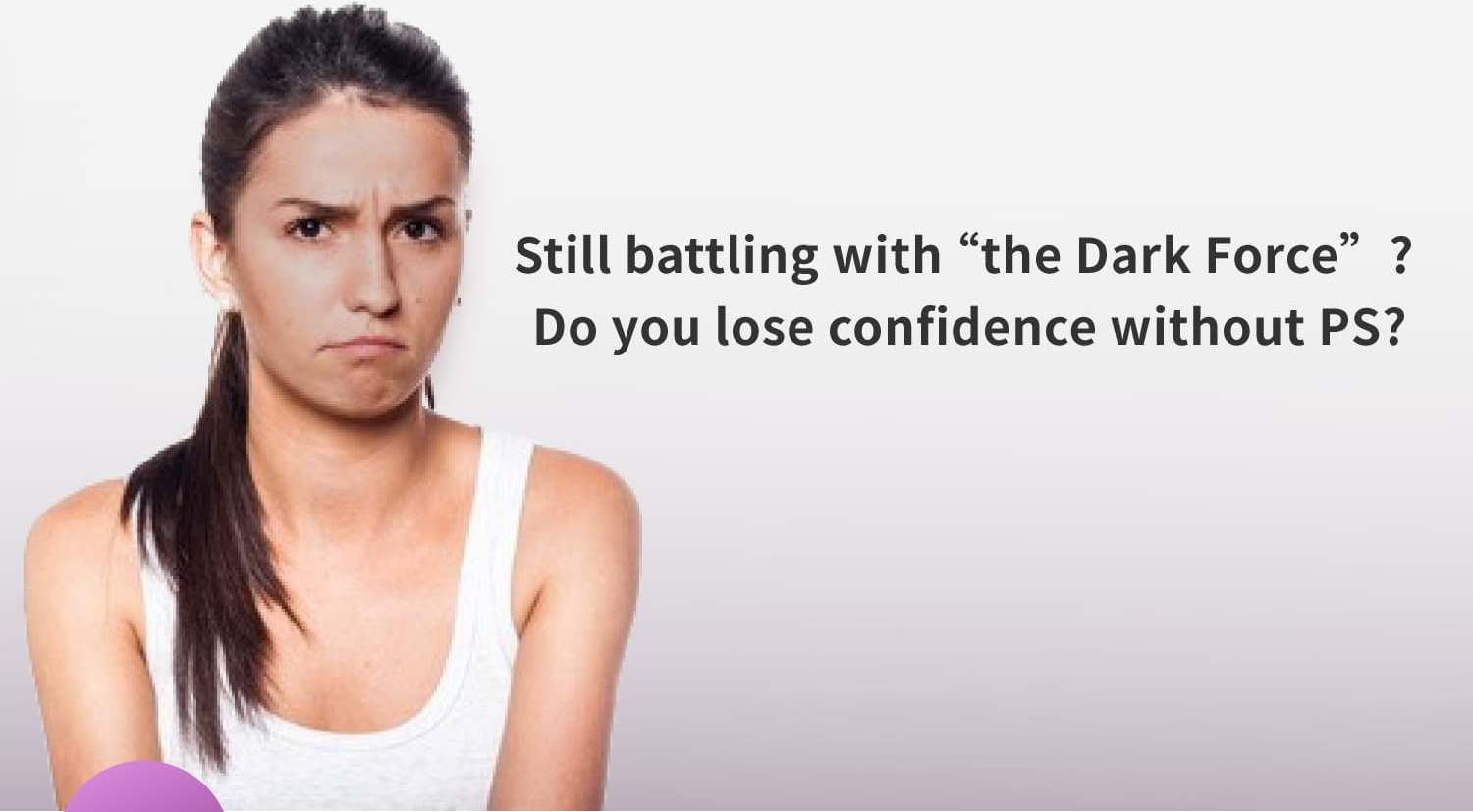 Magic of an Evil Step-mother
500g fresh apple = 1g apple essence
Patented Apple Essence – Even Snow White Feels Irresistible. Apple contains rich polyphenols & proanthocyanidins helps to strengthen immunity & improve body condition. Apple has benefits such as internal cleansing and external protection. No wonder even Snow White can't resist the temptation.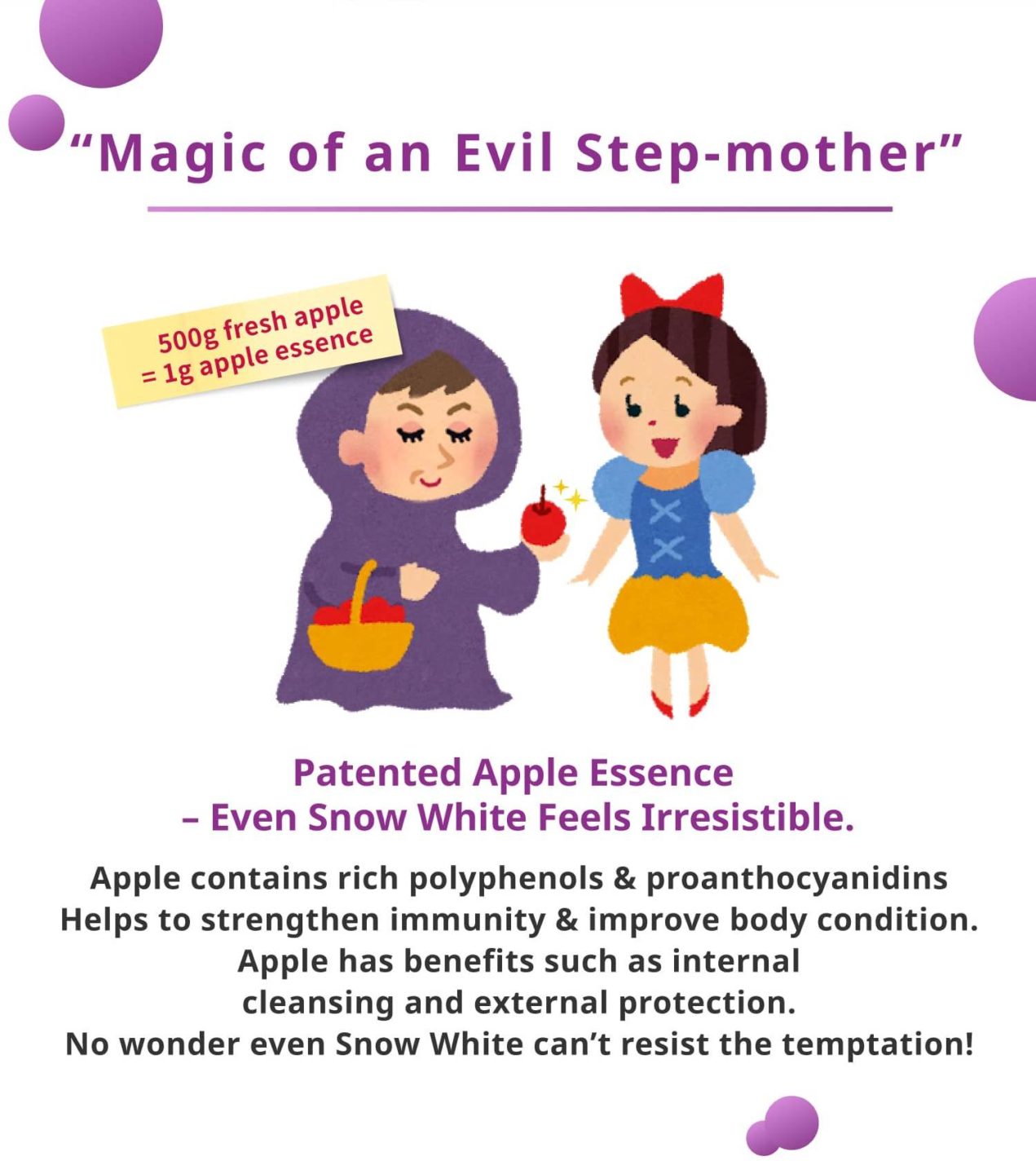 K.O Snow White!! Easy Way to Enjoy Marvelous, Retro-elegant Beauty Skin.
Five selected elements build up self-protection and pure cleansing. Let you shine from the inside out, leaving Snow White sadly in the dark corner.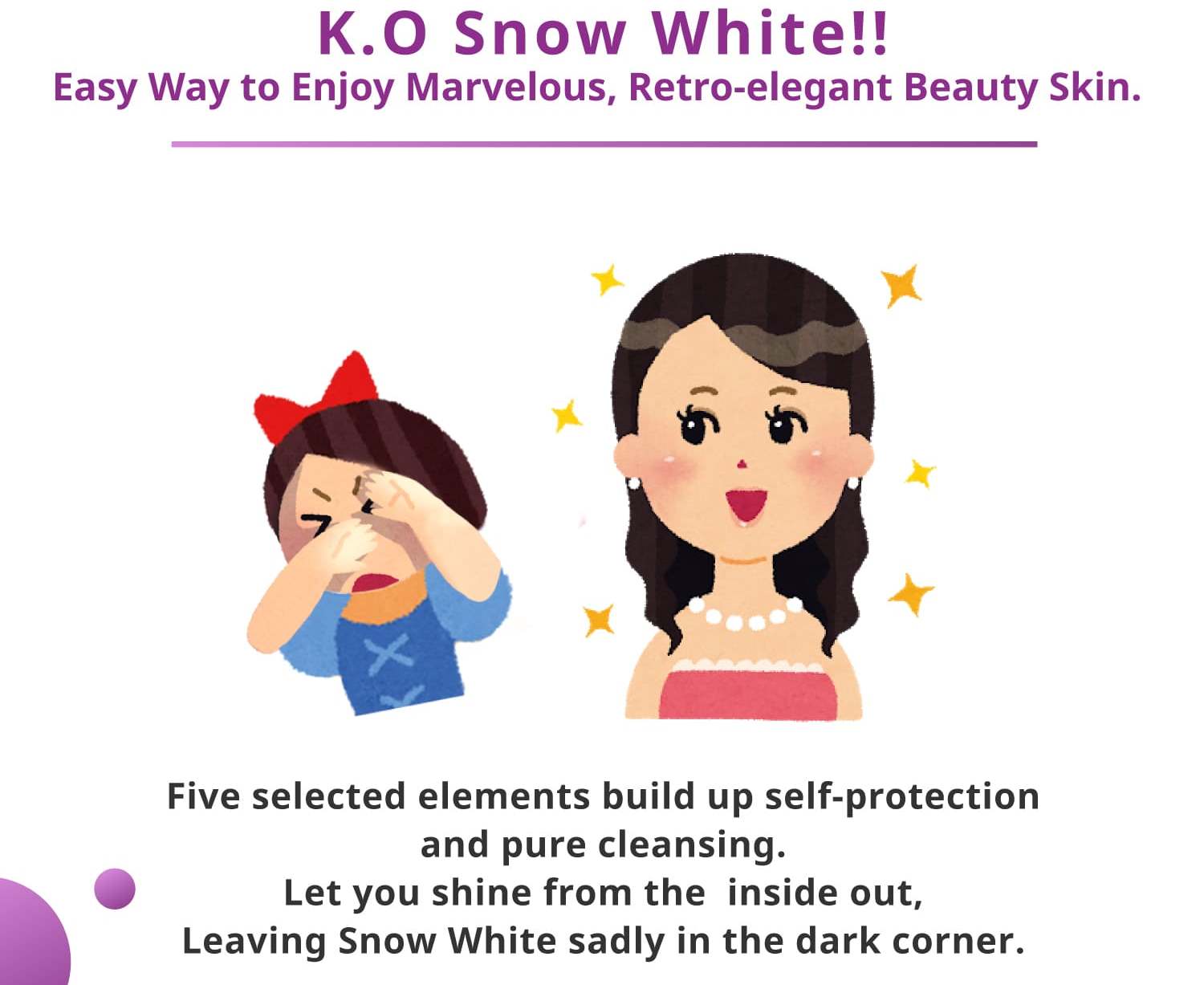 One Step Closer to Glowing, Clear, and Radiant Skin
Glutathione – say No the the "Dark Force" bring my beauty & confidence back.
Blackcurrant Extract – improve body condition higher immunity
Grape Seed Extract – keep health & go back to your glamorous time
Vitamin – keep skin density creating a baby face
Apple Essence – assist in body condition keep you beauty forever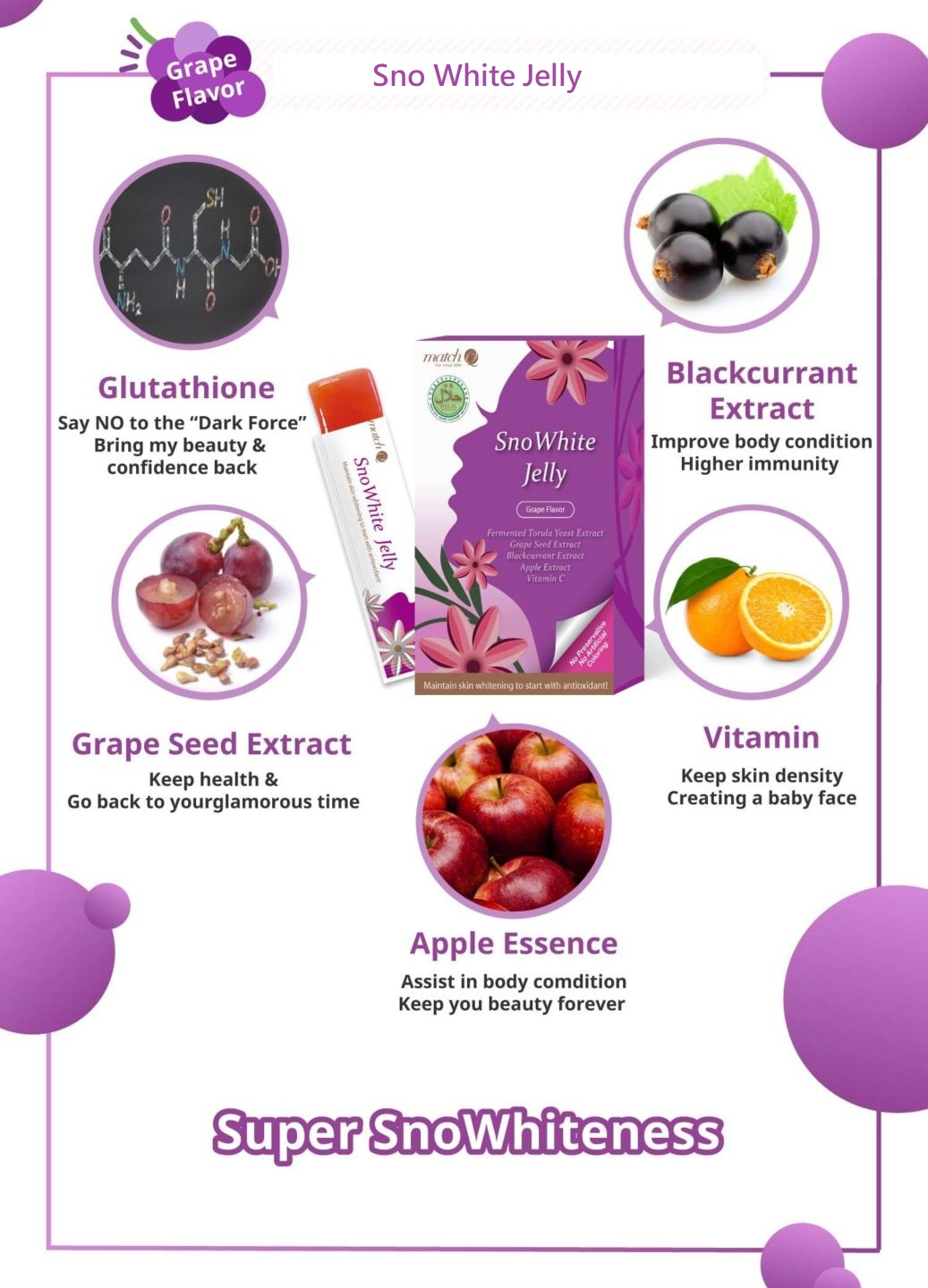 SnoWhite's Treasure
Secrets of an Apple – most current reliable ORAC analysis indicates that ORAC value of apple is extremely high (25,440 mmol TE/g). The higher the ORAC value is, the more benefits to the health.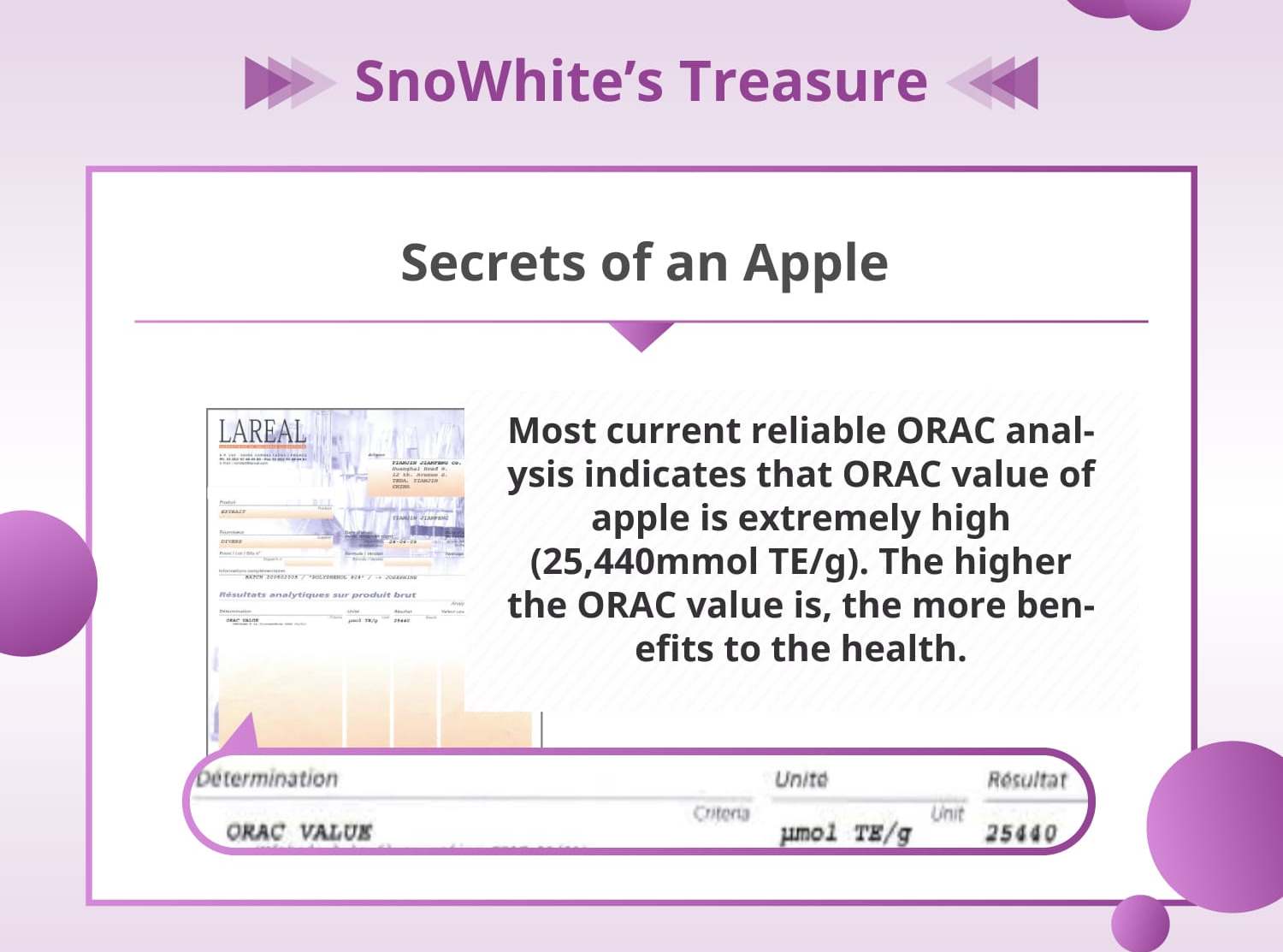 The Secret Being "Sparkling" is Right Here Even Prince Charming can find you in the dark
"The White Fairy" –  Glutathione – A shield consists of three amino acide, against "the Dark Force" & embrace the bright side. 
"Fairy of Light" – Blackcurrant Extract – Originated from New Zealand with strong anti-oxidization effect, say "Good-bye" to dark circles. 
"The Time Fairy" – Grape Seed Extract – Contain high Proantho Cyanidins preventing oxidization giving you a double protection magical spell
"The Youthful Fairy" – Vitamin C – anti-oxidation effect stimulate collagen synthesis. Helps with wound occlusion, create a flawless & beautiful skin.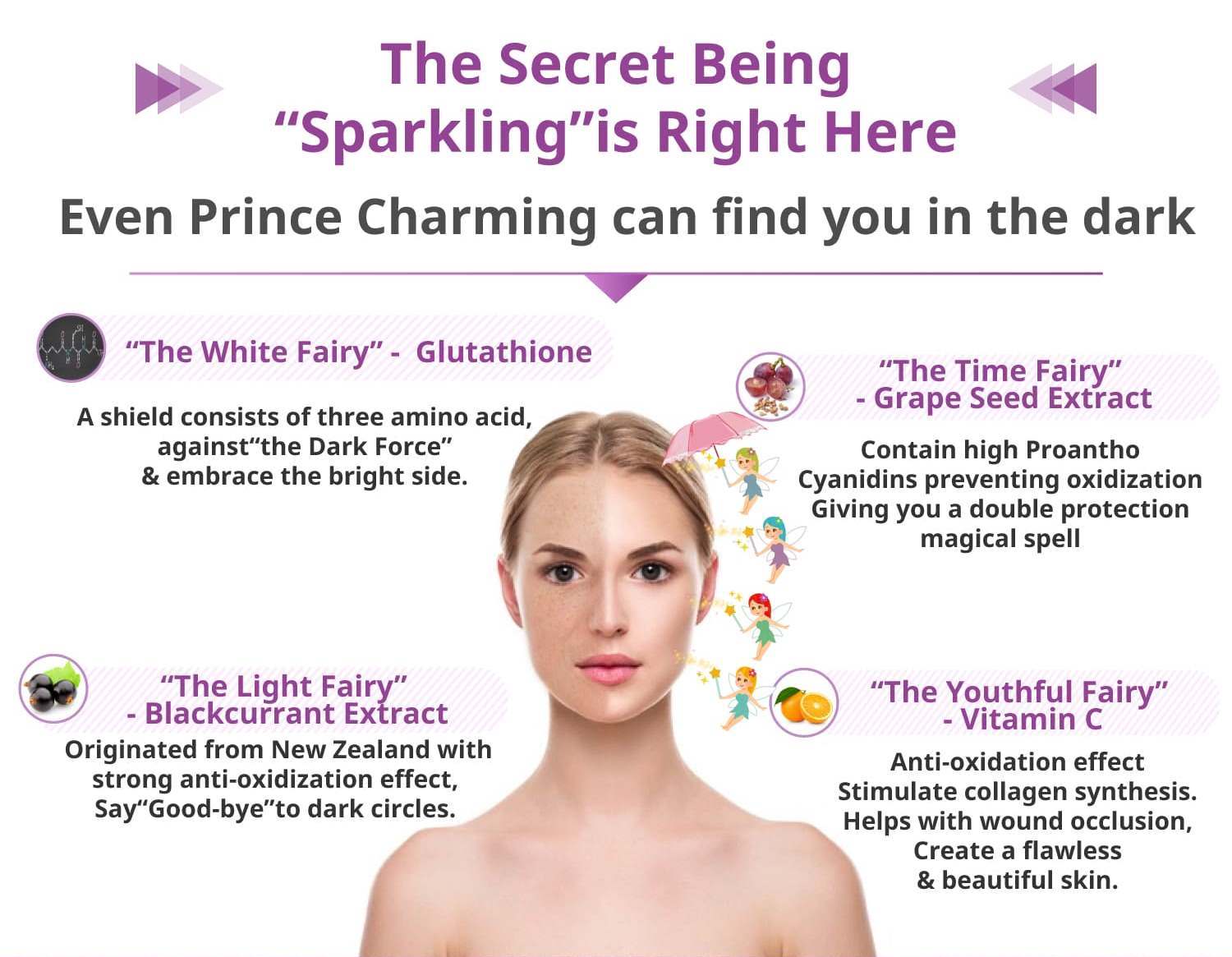 Keep Glamorous Forever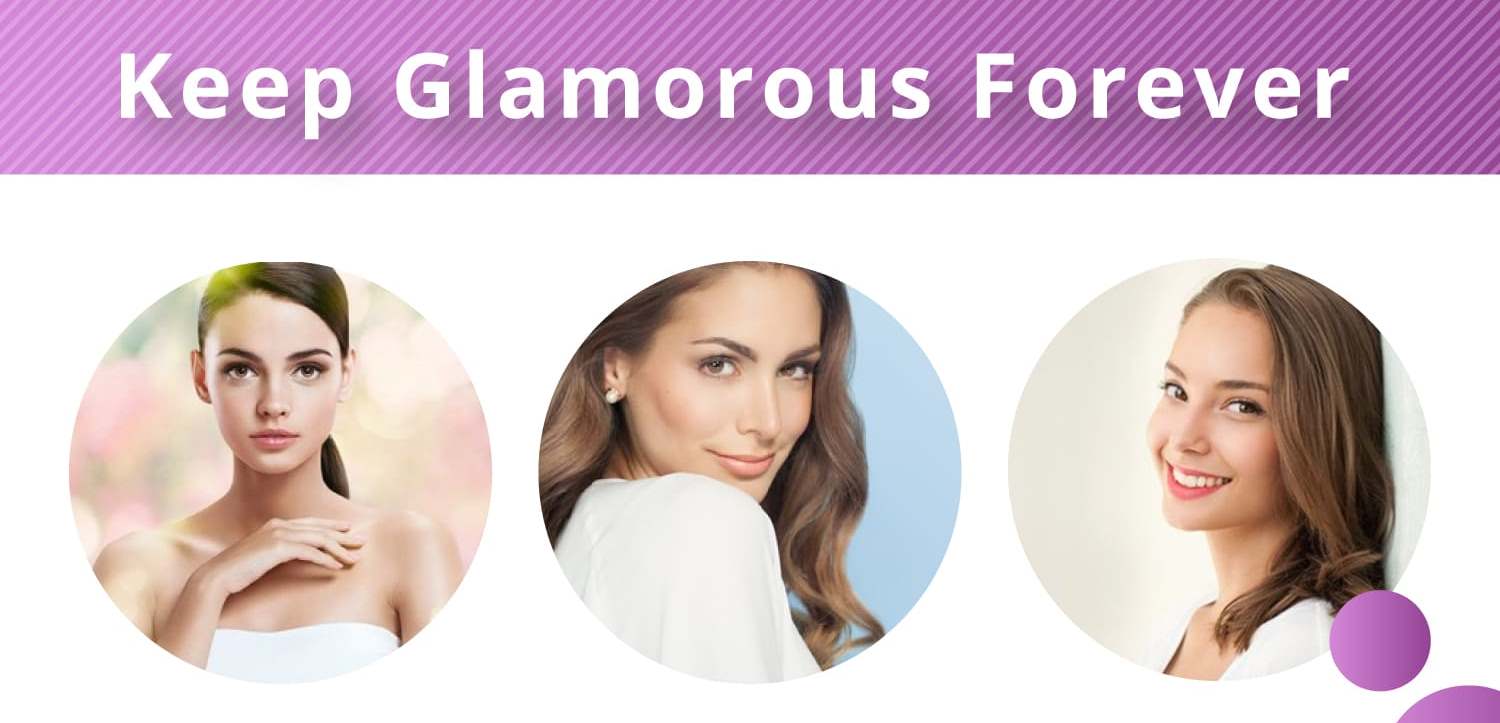 Testimonies form Millions, Proven Results
We have done an in-house testing that after taking our Glutathione jelly 7 days consecutively, the participants said that it can strengthen health & say "Good-Bye" to dark circles and change you from a crow to a swan, a sparrow to a princess. Then after taking 14 days of Glutathione jelly consecutively, it make your rough skin toward silk-smooth skin. Create a luminance and peerless beautiful skin.