Uncover the ancient secret of health care adored by the high society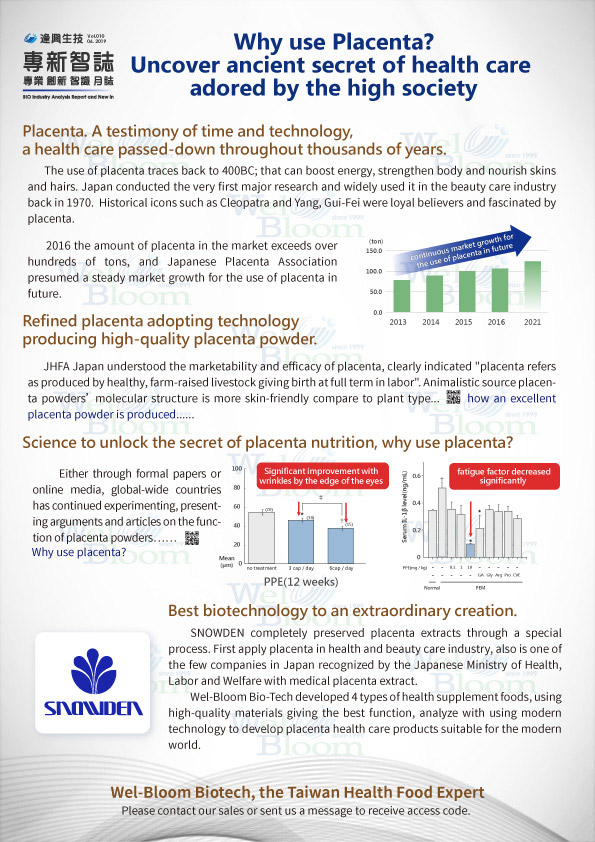 The placenta is a testimony of time and technology and a health care method that's been passed down for thousands of years.
The application of the placenta can be traced back to before 400BC. It has the effect of boosting energy, strengthening and nourishing the body, skin and protecting the hairs. Historical celebrities and loyal followers such as Cleopatra and Yang Gui-Fei all crazy about this product. Japan conducted the very first major research and widely used placenta in the beauty care industry back in 1970. In 2016 the amount of placenta used in the market exceeded hundreds of tons, and the Japanese Placenta Association presumed a stable and continuous market growth for the use of placenta in the future.
Pure refined placenta adopting technology in producing high-quality placenta powder.
The Japan Health and Nutrition Food Association is well aware of the marketability and efficacy of the placenta, clearly indicating "placenta refers it's produced by healthy, farm-raised livestock giving birth at full term in labor". Besides preventing illegal trade by unscrupulous traders, animalistic source placenta powder molecular structure is more skin-friendly compare to plant type… See how an excellent placenta powder is being produced.
Using science to unlock the secret of placenta nutrition, why should you use the placenta?
Nowadays whether in formal papers or online media, countries around the globe have continued experimenting, presenting arguments, and publishing articles on the function of placenta powders……Why should you use the placenta? Significant improvement with wrinkles by the edge of the eyes/fatigue factor decreased significantly
Best of biotechnology to an extraordinary creation.
SNOWDEN, a manufacturer that has completely preserved placenta extracts through a special process, and the very first manufacturer to apply placenta into products from health and beauty care companies. Also is one of the few manufacturers in Japan to receive medical placenta extraction recognized by the Japanese Ministry of Health, Labor, and Welfare. Wel-Bloom Bio-Tech research and developed four types of health supplement foods, with research and developed using high-quality materials to give it with the best function, and analyzing this ancient health care products with using modern technology to develop placenta health care products that are suitable for the people in modern society.
Reference sources:
Placenta Market Type – Global Opportunity Analysis and Industry Forecast, 2021-2028
https://www.alliedmarketresearch.com/placenta-market
Placenta Market 2021 Top Companies report covers are Japan Bio Products Co., Ltd., CJT, BIOON, Japan Natu and Market Share, Demand Forecast to 2025
https://www.marketwatch.com/press-release/placenta-market-2021-top-companies-report-covers-are-japan-bio-products-co-ltdcjt-bioonjapan-natu-and-market-share-demand-forecast-to-2025-2021-10-19
Global Placenta Consumption Market Size And Forecast
https://www.marketresearchintellect.com/product/global-placenta-consumption-market-size-and-forecast/
Wel-Bloom Bio-Tech, health foods development expert in Taiwan.
To know more information, please contact us.
Reading previous supplement industry report EDM : Vol9: Caring for a woman, giving her a long-lasting happiness