Shaking Things Up! The Healthy Smoothie Craze Has Become The Biggest Health Food Business!
The Massive Smoothie Industry Trend is Sweeping the Globe
: High-Calorie Dessert Becomes Healthy Snack
  Smoothies are one of the most iconic desserts served at fast-food restaurants in the United States and have been traditionally made by blending cow's milk, ice cream, and whipped cream. Due to the rise in health awareness, people nowadays pay more attention to their calorie intake. This seemed to cause a drop in its consumption. Smoothies did not regain their popularity until recently when smoothies promoting weight loss and post-workout muscle recovery started to appear on the market and soon became the new smoothie industry trend.
  Today, the craze for healthy smoothies is evident, especially on social media. For instance, there are 67 million smoothie-related searches on Google. Daily, many people search for healthy milkshake recipes for weight loss. Many food bloggers also share their homemade smoothies on Instagram, resulting in more than 4 million related posts. In addition, there are close to 10.3 million smoothie-related videos on YouTube channels, showing how much attention smoothie is currently receiving. Today, healthy milkshake ideas seem to come from every quarter.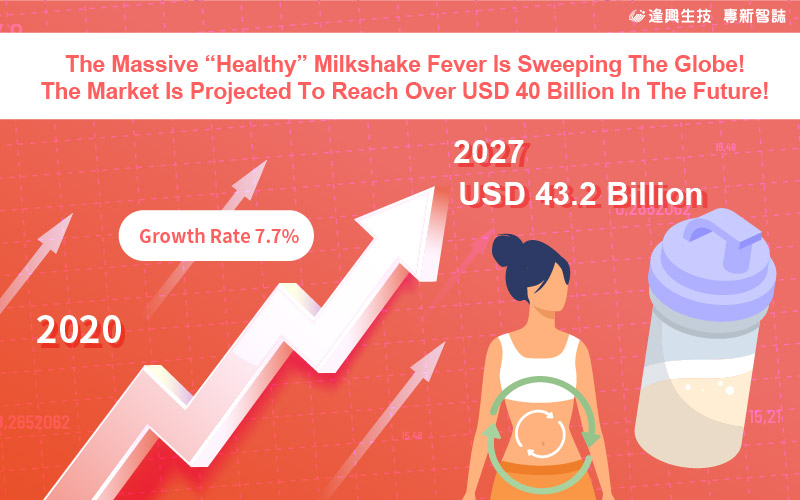 According to Research and Markets, the global packaged smoothie market is projected to grow at a CAGR of 7.7% from 2020 to 2027 and reach USD 34.2 billion by 2027. North America accounts for the majority of the market share, and the Asia-Pacific region takes up the second largest proportion. As the world's second-largest economy, China is forecasted to present the highest CAGR and reach USD 7.7 billion by 2027, indicating astonishing market growth.
  The wide variety of smoothies for different groups of consumers attracts a lot of attention and investment. For instance, the Coca-Cola Company acquired the Core Power high-protein shakes produced by Fairlife and Naked Juice and launched a fruity vegan protein shake as the new product. Organic Valley also produces a Fuel Protein Shake for post-workout energy recovery. There seem to be healthy milkshakes and smoothies enough to cater to every demographic.
Reference resources:
Packaged Milkshakes Market Size, Share & Trends Analysis Report
https://www.grandviewresearch.com/industry-analysis/packaged-milkshakes-market#:~:text=The%20global%20packaged%20milkshakes%20market,key%20factors%20driving%20the%20market
SMOOTHIES MARKET – GROWTH, TRENDS, AND FORECAST (2020 – 2025)
https://www.mordorintelligence.com/industry-reports/smoothies-market
Global Smoothies Market 2020-2027: High-Sugar Content, High Prices & Changing Consumer Tastes – Challenges Confronting Smoothies Market
https://www.globenewswire.com/news-release/2020/10/16/2109677/0/en/Global-Smoothies-Market-2020-2027-High-Sugar-Content-High-Prices-Changing-Consumer-Tastes-Challenges-Confronting-Smoothies-Market.html
A New Health Food Alert! The Combination of Smoothies and Two Other Popular Trends!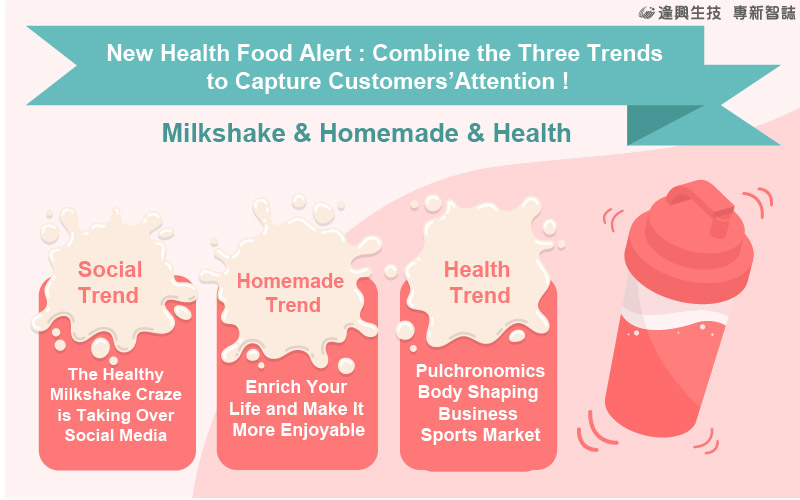 Increasing health awareness has made people more mindful of what they are putting in their bellies. The ingredient-conscious movement has infiltrated desserts and snacks as well. The special column from foodNEXT reveals that many food manufacturers have been trying to increase the nutritional value of their snacks and beverages. This explains the ongoing healthy smoothie craze.
  Presently, there are many smoothies marketed to promote weight loss and protein replenishment. Moreso, smoothies have even become the symbol of calorie control and post-workout rejuvenation. 
  Now, virtually everyone wants a healthy figure. Thus, post-workout energy replenishment and calorie control are health demands that have gained a lot of popularity recently. Many people make exercise a daily habit to maintain their body shape and release occupational stress. It is recommended to take a pre-workout supplement for energy maintenance and a post-workout high-protein supplement to boost muscle recovery. Such an exercise fad supports this smoothie industry trend and drives the growth of the workout supplement market. 
  There is no doubt that calorie deficit is key to weight management. However, certain lifestyles make this difficult. Drinking for business and recreational purposes also makes it hard to stay healthy as there is an excessive intake of calories. Hence, unwanted fat storage. Little wonder healthy milkshake recipes for weight loss soon became extremely popular with the support of online influencers. Aside from calorie restriction, skin-glistening smoothies have started to appear on the market. Due to pulchronomics and the "ideal image" many believe they must present on social media, supplements that promote healthy and radiant skin are now in high demand.
Reference resources:
Top 10 Smoothie Market Trends to Watch In 2019
https://blog.technavio.com/blog/top-10-smoothie-market-trends
10 Best Store-Bought Protein Shakes, According to Experts
https://www.eatthis.com/protein-shakes/
For more Information about the Smoothie Health Food Business idea, you can visit the article: Shaking Things Up! The Healthy Smoothie Craze Has Become The Big Health Food Business!-Part.2
To retrieve passwords please fill in the form or email us at, service@welbloom.com.tw, and our sales representative will get in contact with you as soon as possible.
Wel-Bloom Bio-Tech, experts in dietary supplement foods research and development in Taiwan