Long-Time Mask Wearing Creates a current skincare trend ''Preventing Mascne''in global skincare market.
COVID-19 crisis has had a profound impact on many markets and the global skincare market is no exception. According to Cosmetic Marketing Research Institution (CMRI), wearing a mask for a long duration due to the pandemic actually traps humidity and causes oily skin, bacterial growth, and skin irritation. The increased cases of skin disorders lead to current skincare trends: The rising demand for anti-acne(prevent mascne), pore-minimizing, and skin repair products, bringing acne-related matters back in the spotlight.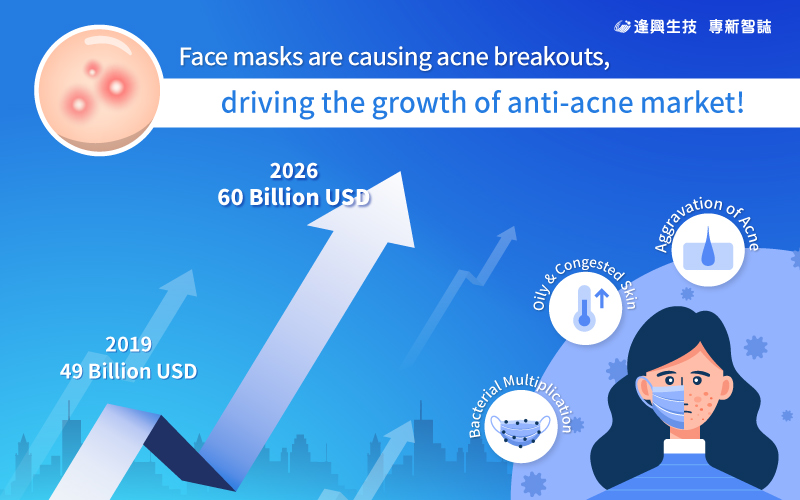 Acne problems are much more common than we thought!
      The majority of people have experienced acne at different stages of life and acne can have a great impact on their lives depending on the severity. Acne is a common condition faced by many teenagers. The significantly increased sebum production from sebaceous glands and the hormone fluctuations take place during puberty, causing clogged pores and eventually leading to acne. According to the Global Burden of Disease Study 2017, 95% of the boys and 85% of the girls are facing acne problems and about 20 to 40% among them suffer from moderate and severe conditions of acne. However, acne development is not limited to teenagers. It is estimated that over 50% of adults still cannot get rid of acne.
        For individuals who have acne, acne affects more than their appearance. According to The American Journal of Dermatology, severe acne is associated with an increased risk of developing depression. In addition, the research from Oman Medical Journal indicates that having acne actually causes poor self-esteem and social withdrawal in college students. The data also show that their self-esteem became lower as the severity of acne increased.
Taking skin supplements has become a new beauty trend.
        The analysis of the acne treatment market from Grand View Research indicates that wearing face masks causes acne breakouts, driving the growth of anti-acne products including the oral skin supplements that promote starting the beauty from within. Most female customers would keep their skin healthy by taking dietary supplements. The global women's health & beauty market size was estimated to be 49.8 billion US dollars in 2019 and continue to grow at a Compound Annual Growth Rate (CAGR) 4.75% from 2020 to 2026 to reach 60 billion US dollars by 2026.  
Data Reference:
[1] Global Burden of Disease Study 2017 (GBD 2017) Data Resources
http://ghdx.healthdata.org/gbd-2017
[2] Impact of Acne on Quality of Life of Students at Sultan Qaboos University
[3] Women Health & Beauty Supplements Market Size, Share & Trends Analysis Report By Product
https://www.grandviewresearch.com/industry-analysis/women-health-beauty-supplements-market
Anti-acne Cosmetics Market Size, Share & Trends Analysis Report By Product Type (Mask, Creams & Lotions, Cleansers & Toners), By End-use (Women, Men), By Region (APAC, North America), And Segment Forecasts, 2021 – 2028
https://www.grandviewresearch.com/industry-analysis/anti-acne-cosmetics-market
Dealing with Your Acne at Its Source is Important!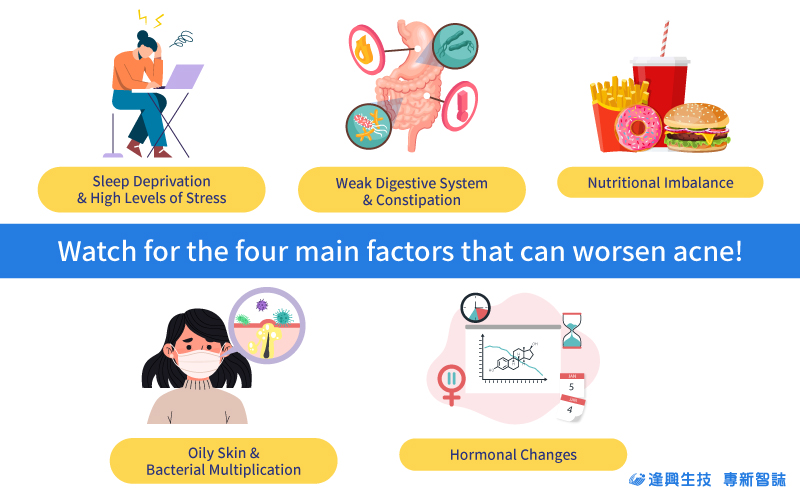 Some patients have spent a long period of time trying different acne treatments; however, the condition does not seem to get any better. Although acne appears to be on the skin surface, your skin actually reflects your inner health. The biggest contributing factor is the excess amount of sebum secreted by the sebaceous glands, causing clogged, inflamed pores.
Many life factors could be the reasons for acne development:
Sleep Deprivation & High-Stress Level
Not getting enough sleep and having too much stress would cause the hormone imbalance which further leads to overproduction of sebum and thicker skin stratum corneum to create the breeding ground for acne.  
As for women, the estrogen level rises before the menstrual cycle which causes overproduction of sebum. Therefore, it is more likely for them to have clogged pores and acne during menstruation. Young boys who experience high androgen levels are prone to developing acne.   
Having a deficiency in the vitamins and minerals required for healthy skin or excessive intake of fat and sugar could result in a thicker stratum corneum, poor skin texture, and overproduction of sebum, increasing the chance of acne development.
Weak Digestive System & Constipation
Constipation enhances toxin accumulation and the growth of harmful bacteria which slow down your metabolism and interfere with the skin cell cycle, which eventually causes acne breakouts.
Solving acne from the inside out is also a popular option nowadays. 
Therefore, in order to deal with your acne at its source, it is highly recommended to eat healthily, get enough sleep, clean your face frequently, and practice relaxation. Nowadays, more and more people wish to improve their skin health from the inside out by increasing skin metabolism and regulating sebum secretion to prevent acne formation due to clogged pores.