The health benefits of red yeast rice have transformed it from a treasure of the East to a rising star of the West!
Red yeast rice, the star of Chinese food therapy, is widely used in both medicine and cooking to nourish and invigorate the body bringing the need for red yeast rice supplement.
Red yeast rice, with a history of more than 4000 years, plays an important role in Chinese food therapy. Red yeast rice, also known as "beni koji" or "anka koji" in Japan, is produced by cultivating the mold species, Monascus purpureus, on cooked white rice. The dried powdered fermented rice has a distinctive color and flavor that makes it great for culinary use.
Red yeast rice function is widespread. It is used in a wide variety of dishes, including marinating red vinasse pork, red glutinous fish, fermented tofu, and even producing vinegar and wine. During the fermentation process of red yeast rice and meat, special substances are produced which inhibit the growth of microorganisms and prolong preservation.
In addition to its culinary application, red yeast rice has multiple health benefits, such as improving digestion, metabolism, and blood circulation. It is so beneficial that one could even use red yeast rice for hypercholesterolemia. Red yeast rice plays an important role in Chinese food therapy with numerous records in the TCM Pharmacopeia. In recent years, western medical studies have confirmed its effectiveness in reducing blood lipids. This discovery has further attracted the attention of many scholars. Since this discovery, dried and powdered red yeast rice supplement in capsule dosage form has become a popular health product worldwide.
Increasing Cardiovascular Diseases Accelerate the Growth of the Red Yeast Rice Health Product Market
The hectic lifestyles, long-term unbalanced diets, coupled with a lack of exercise, alcohol drinking, smoking, overeating, and other harmful habits of modern people have resulted in an increase in people suffering from cardiovascular diseases. The number of patients suffering from cardiovascular disease increases year by year, and the disease is becoming more common among young adults[1]. According to the World Health Organization (WHO) report, ischemic heart disease is responsible for 16% of the world's total deaths in 2019, with the biggest increase in deaths—more than 2 million—since 2000. Since 2000, diabetes has entered the top 10 causes of death[2], following a significant percentage increase of 70%. Due to the rapid increase in cardiovascular diseases, the reduction of cholesterol levels and fat absorption has become a priority driving the demand for related health products.
The red yeast rice function is also recognized in the West as red yeast rice, a treasure of the East, is now valued in the West. Currently, on the basis of end-use, dietary supplements account for the highest volume share—80.5% of the global red yeast rice market, with an approximate amount of 431.1 million US dollars. 

[1] Epidemiology of cardiovascular disease in young individuals
https://www.nature.com/articles/nrcardio.2017.154
[2] WHO reveals leading causes of death and disability worldwide: 2000-2019
https://www.who.int/news/item/09-12-2020-who-reveals-leading-causes-of-death-and-disability-worldwide-2000-2019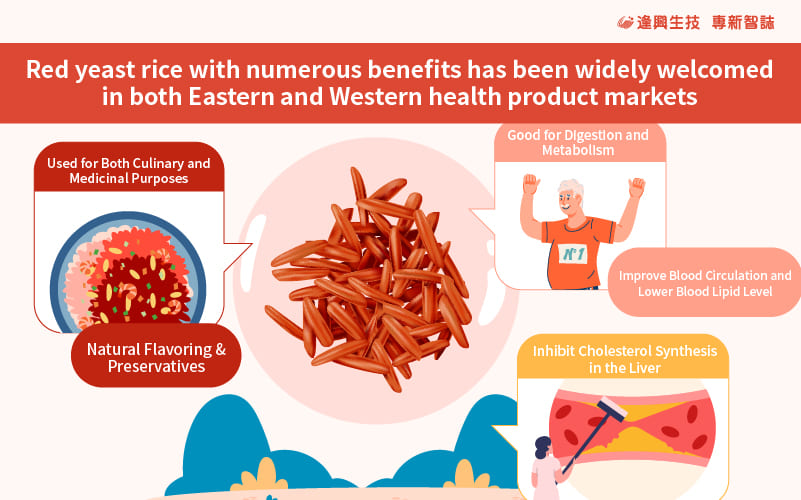 Red yeast rice is transformed into a rising star in the West, opening up new opportunities and a promising future in the health supplement market.
According to data provided by the U.S. National Institutes of Health, approximately $20 million was gotten annually in 2008 and 2009 from the sales of red yeast rice dietary supplements in the U.S.[3]
A study by Persistence Market Research found that the global red yeast rice market expanded at a rate of 7.4% between 2016 and 2020, demonstrating the widespread acceptance and popularity of red yeast rice products in Western countries in recent years. According to the data, North America currently holds a 32.4% market share, dominating the global market, with Europe and East Asia following closely behind. The overall market is expected to reach a CAGR of 8.6% by 2031, with a market value of US $1.2 billion, a 2.4-fold increase. Actively exploring business opportunities in red yeast rice dietary supplements is worthwhile[4].
[3] Red yeast rice, NIH
https://www.nccih.nih.gov/health/red-yeast-rice
[4] Demand for Red Yeast Rice to Be Extensively Driven by High Use in Dietary Supplements: Persistence Market Research Study
https://www.persistencemarketresearch.com/mediarelease/red-yeast-rice-market.asp

The application of Nutri-Crypt® crystal pellet technology on red yeast rice supplement makes a breakthrough in flavor and dosage form to capture the "red" ocean in business!
Wel-Bloom took the lead in the development of red yeast rice supplements by launching Match Q Monascus Q10 Capsule.
Wel-Bloom discovered the value of red yeast rice at an early stage and invested in studies to further understand red yeast rice's health benefits from a professional medical perspective and investigate the possibilities of having a red yeast rice supplement. We became the first manufacturer to develop red yeast rice with COQ10 formula, and our product "Match Q Monascus Q10 Capsule" was accredited by the Department of Health with DOH Health Food No. A00158 in 2009.
Multiple clinical trials have shown that red yeast rice helps to reduce total cholesterol and LDL levels and delays the oxidation of LDL in the blood to reduce the risk factors for cardiovascular disease. Thus, one can use red yeast rice for hypercholesterolemia.
Difficulty Swallowing Capsules
Most of the dietary red yeast rice supplements sold at Costco, Amazon, and Walmart are in capsule form to suppress the unpleasant sour and bitter taste of fermented red yeast rice and prevent the thermal disintegration and deterioration of the active ingredients. However, for elderly people who have difficulty swallowing, taking capsules for a long period of time may cause stress. In addition, patients with cardiovascular diseases are getting younger, and the capsule dosage form may easily be associated with medicine—a discouragement to usage.
Wel-Bloom noticed this phenomenon and sought to provide innovative solutions that puts the consumers' consumption experience first while keeping the efficacy and safety of the supplements. We made a significant investment in research and development and came up with a remarkable crystal pellet technology to bypass the shortcomings of capsules and maximize red yeast function in the body.
Nutri-Crypt® Is Introduced to Address the Drawbacks of Capsule Dosage Form.
The patented Nutri-Crypt® developed by Wel-Bloom is a three-layer coating technology. The protective layer prevents the core ingredients from being damaged by gastric acid, the taste-masking layer blocks the odor and taste of unpleasant ingredients, and the pellet core retains ingredient activity and increases nutrition absorption by protecting nutrients from being damaged by heat and gastric acid. The crystal pellet technology can be utilized for various dosage forms, from solid powder packets, capsules, etc., to liquid drinks, pastes, and jellies, offering more options in terms of efficacy and taste. The combination of red yeast rice with crystal pellet technology not only creates a breakthrough in dosage form but also upgrades its efficacy and creates a "red" ocean for red yeast rice supplements.