Global Demand for Immune Balance Supplements Has Hit New Highs. The Public Sees Immune Balance as a Long-Term Battle
The pandemic has driven the demand for immunization
Since the COVID-19 outbreak, people have been anxiously seeking products that can boost their immunity. According to a report by Euromonitor International, a London-based research firm, up to 70% of consumers are more willing to buy immunity-based supplements after the pandemic, and this habit is expected to stick. The growth rate of the immune balance supplement market is nearly four times that of other categories[1]. The North American market alone was worth $6.58 billion in 2020, and the global market for immune balance supplements is expected to grow to $31.5 billion in 2028[2]. As the number of confirmed COVID-19 cases keeps rising, the demand for long COVID recovery also emerges, such as lung repair, physiological disorders, sleep disturbance, cognitive impairment, etc. In response, more compound immune balance supplements have been developed.
The decline in herd immunity leads to the looming threat of immunity debt.
People have developed the good habit of wearing masks and washing their hands during the pandemic. While the spread of COVID-19 is inevitable, it indirectly reduces the chances of people contracting other common infectious diseases. However, a lack of exposure to influenza and respiratory syncytial virus, or RSV, for a long period of time may cause a decline in herd immunity. With the loosening of epidemic control measures, wearing masks is no longer mandatory on many occasions, and RSV and the flu are surging both domestically and internationally[3][4], creating a so-called "immunity debt". In order to protect against these infectious diseases, another wave of demand for immune balance supplements, which can help regulate and maintain the immune system, is bound to emerge in the post-pandemic healthcare market.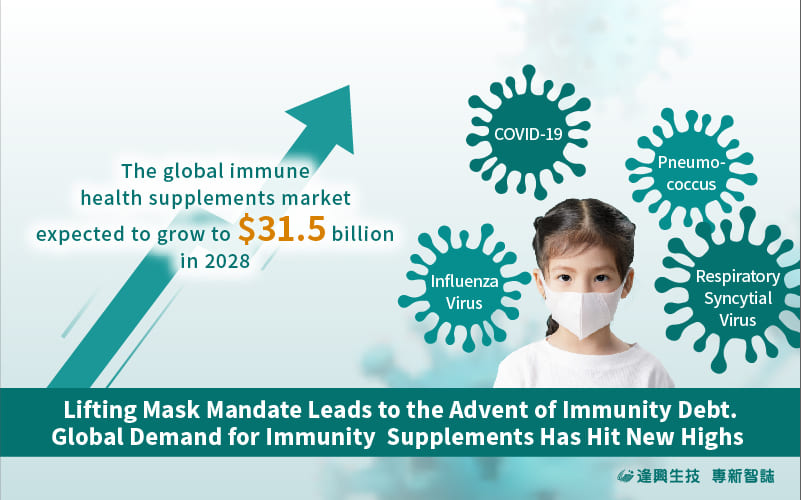 [1]Coronavirus Accelerates Demand for Immunity and Holistic Wellness
https://www.euromonitor.com/article/coronavirus-accelerates-demand-for-immunity-and-holistic-wellness
[2]The global immune health supplements market from 2021 to 2028
https://www.fortunebusinessinsights.com/immune-health-supplements-market-103319
[3]疾管署-傳染病統計資料查詢系統
https://nidss.cdc.gov.tw/
[4]The epidemiology of RSV changed in UK children during the pandemic
https://www.clinicaltrialsarena.com/comment/rsv-uk-children/
Dietary Supplement Is the Key Component of the Maintenance of the Immune Balance! Ergothioneine, One of the Most Trendy Dietary Ingredients, Becomes the Strongest Protective Shield Against Infections.
Develop new immunity strategies
Although it is important to boost immunity, doing so could potentially cause skin problems. Therefore, it is essential to emphasize homeostasis as well. Among the sequelae of COVID-19, many people are experiencing rashes due to an overactive immune response[5][6], and people in Taiwan visiting dermatologists for itchy skin have increased by 30%[7]. In addition, certain factors like imbalanced diet or stress can cause skin problems. In the face of external threats and the need for internal balance, epidemiologist Rachel E. Baker shared on CNN that nonpharmaceutical interventions such as washing hands and wearing masks should be maintained to help reduce the risk of infections[8]. In addition to healthy habits, intake of nutritious food, such as turmeric, garlic, broccoli sprouts, mushrooms, etc[9]. is also very important for immune balance. These superfoods and dietary supplements, such as immune balance supplement, that provide balanced nutrients have become the best support for immune regulation.
Mushrooms are not only vegan-friendly, but they also offer a plethora of nutrients and benefits, making them a new nutritional star.
In recent years, there is a wide variety of information about superfoods. Scholars from the United States and Singapore found that the mushroom is rich in ergothioneine (EGT), a precious amino acid that cannot be synthesized by the human body and can help regulate multiple physiological functions and nourish the body. Moreover, the intake of mushroom nutrients and benefits can contribute to immune balance, which makes the mushroom gradually stand out from many superfoods. Wel-Bloom, recognizing the potential of ergothioneine in the health food market[10], has developed Wel-EGT®, the exclusive ingredient by using patented technology to extract the precious nutrients from mushrooms. Wel-EGT® is vegan-friendly and from the raw material selection to the whole production process is strictly controlled to ensure purity and high quality.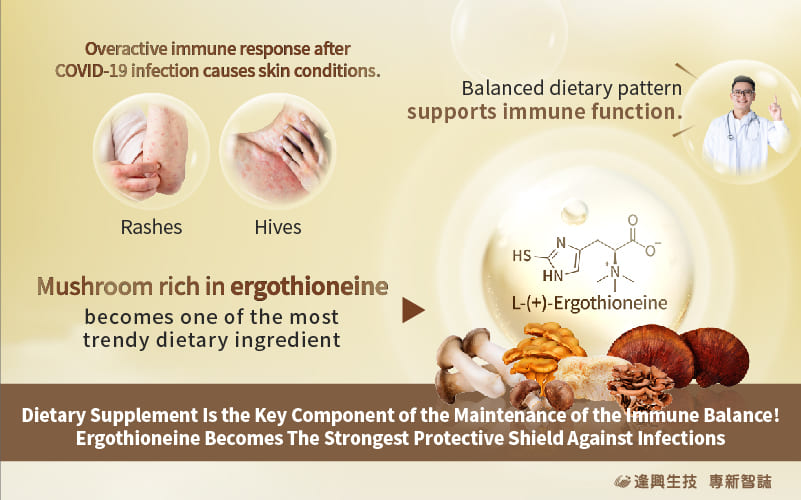 [5]Does Covid-19 Cause Skin Cancer?
https://www.skincarenetwork.co.uk/skin-cancer-news/covid-19-effect/
[6]Common skin signs of COVID-19 in adults: An update
https://www.ccjm.org/content/89/3/161
[7]長新冠丘疹、蕁麻疹患者增3成 醫師:新冠病毒或侵犯其他器官
https://news.pts.org.tw/article/586281
[8]Pandemic 'immunity gap' is probably behind surge in RSV cases, scientists say
https://edition.cnn.com/2022/10/26/health/rsv-immunity-gap/index.html
[9]A doctor shares the 5 'magical superfoods' she always adds to her diet 'for a strong immune system'
https://www.cnbc.com/2022/03/05/doctor-shares-best-superfoods-she-includes-in-her-diet-for-a-strong-healthy-immune-system.html
[10]逢興跨世代專利原料Wel-EGT®,攜豐富麥角疏因,插旗全球「健康長壽」市場!
https://www.welbloom.com.tw/reportandnewinvol49/