Refining Immunity Supplements to Respond to the Demand for Immune System Support in the Post-pandemic Era
Evolution in Immunity Concepts Pre and Post-Pandemic
The World Health Organization highlighted the significance of immunity as one of the ten fundamental aspects of 21st-century health, emphasizing the need for strengthening individuals' immune systems even before the onset of COVID-19. The pandemic had a profound impact on public health awareness, with "Tastewise," an AI-technology-backed food trend prediction platform, revealing a staggering 150% surge in the demand and search volume for immune boosters and diets at the height of the global outbreak compared to the pre-pandemic period[1].
In the post-pandemic era, the focus on immunity enhancement remains prominent. Ongoing challenges such as flu outbreaks linked to immunity debt sustain the robust demand for immune boosters, projecting a market value exceeding US$30 billion by 2033[2]. As awareness grows, people are recognizing that 'stronger' immunity doesn't always equate to better health. An overly active immune system can trigger allergies, while a weakened one can increase vulnerability to viral infections. Striking the right balance is essential.
In light of today's fast-paced lifestyles, individuals are increasingly seeking vitamins for the immune system to meet their nutritional requirements. However, despite their immune-boosting purposes, these products can go to waste if they are challenging to ingest or inconvenient to carry. Therefore, the dosage form and portability of these products are pivotal factors to take into account.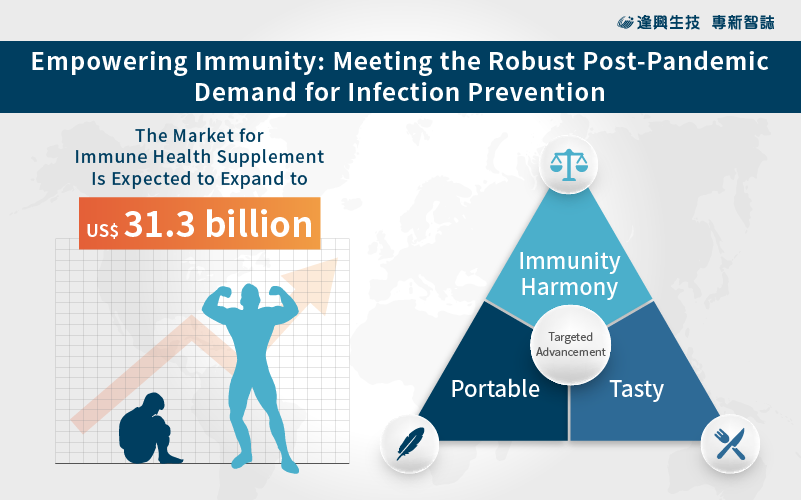 [1] 'Consumers want uplifting:' AI data intelligence firm predicts demand for immunity boosting functional foods will keep rising
https://www.foodnavigator.com/Article/2021/01/12/Consumers-want-uplifting-AI-data-intelligence-firm-predicts-demand-for-immunity-boosting-functional-foods-will-keep-rising
[2] Immune Health Supplements Market Outlook 2023-2033
https://www.persistencemarketresearch.com/market-research/immune-health-supplements-market.asp
TCM Herbal Tea: Bridging Global Lifestyles with Eastern Health Wisdom
Pursuing Natural Immune Boosters against Infection
Beyond the immunity supplement sector, there's a surge of interest in herbal, plant-based, and traditional Chinese health products. This movement is fueled by the demand for "natural, additive-free herbal extracts." A market study published by Global Industry Analysts Inc. indicated that the worldwide market value for herbal supplements and remedies hit $84 billion in 2022 and is poised to reach $111.6 billion by 2026.[3]
Exploring Immunity Harmony with Tea Culture Insights
Traditional Chinese medicine places a strong emphasis on the therapeutic properties of food, dating back as early as 200 BC when herbal teas were utilized for medicinal purposes. These herbal infusions were carefully crafted to harmonize with an individual's unique body constitution, playing a pivotal role in preventative healthcare. In Western culture, a rich tea-drinking tradition also exists, with various natural herbs like lemongrass, ginger, and chamomile being integrated into tea blends.[4] With the pandemic outbreak, there has been a worldwide quest for natural functional teas to bolster overall well-being and fortify against infections. TCM herbal teas have gained international recognition during this growing trend. Notable examples include "Andy's Soup," formulated by Dr. Andy Sun, a Ph.D. in immunology from National Taiwan University, and the renowned "NRICM101," a traditional Chinese medicine remedy targeting COVID-19. According to a research report by Coherent Market Insights, the global herbal tea market experienced significant growth during the COVID-19 pandemic, and this trend is anticipated to persist at least to 2028.[5]
Combining the advantages of herbal extracts with food-like dosage forms, TCM herbal teas are at the forefront of the global health and wellness movement. Wel-Bloom Bio-tech, recognizing the growing demand for immune support, proudly introduces 'ImmunoBalance Booster' TCM Herbal Tea. This exceptional product empowers you to tap into the ever expanding immunity supplement market.