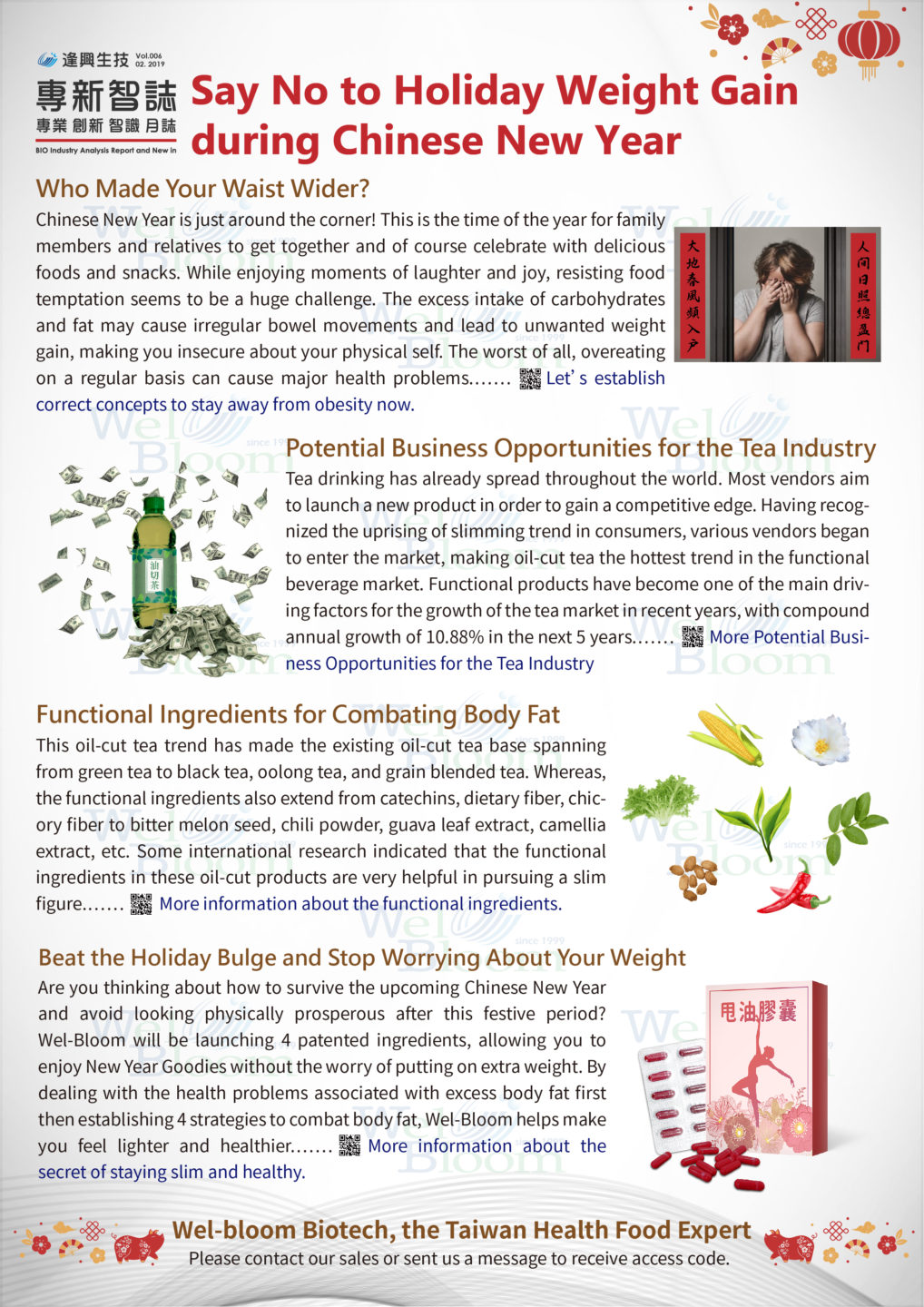 Say no to Holiday Weight Gain during Chinese New Year
Who made your waist wider?
Chinese New Year is just around the corner! This is the time of the year for family members and relatives to get together and of course, celebrate with delicious foods and snacks. While enjoying moments of laughter and joy, resisting food temptation seems to be a huge challenge. This binge-eating habit during this festive period may cause irregular bowel movements. In addition, the excess intake of carbohydrates and fat may lead to unwanted weight gain, making you insecure about your physical self. Worst of all, overeating on a regular basis can cause major health problems. Hence, it is necessary to establish correct concepts to stay away from obesity.
Potential Business Opportunities for the Tea Industry   
Looking at the development of the tea industry until now, tea drinking has already spread throughout the world. Most vendors aim to launch a new product in order to gain a competitive edge in the beverage market. Having recognized the uprising of slimming trends in consumers, various vendors began to enter the market, making oil-cut tea to become the hottest trend in the functional beverage market. Functional products have become one of the main driving factors for the growth of the tea market in recent years, with compound annual growth of 10.88% in the next 5 years.
Functional ingredients for combating body fat
This oil-cut tea trend has made the existing oil-cut tea base spanning from green tea to black tea, oolong tea, and grain blended tea. Whereas, the functional ingredients also extend from catechins, dietary fiber, chicory fiber to bitter melon seed, chili powder, guava leaf extract, camellia extract, etc. Some international research indicated that the functional ingredients in these oil-cut products are very helpful in pursuing a slim figure. More information about the functional ingredients…
Say Goodbye to Excess Body Fat and Free Yourself from Worrying about Weight
Are you thinking about how to survive the upcoming Chinese New Year and avoid looking physically prosperous after this festive period? Wel-Bloom will be launching 4 patented ingredients, allowing you to enjoy New Year Goodies without the worry of putting on extra weight. By dealing with the health problems associated with excess body fat first then establishing 4 strategies to combat body fat, Wel-Bloom helps make you feel lighter and healthier. More information about the secret of staying slim and healthy.
Reference resources:
The Global Functional Tea Market will grow by USD 2.89 bn during 2019-2023
https://www.businesswire.com/news/home/20200601005458/en/Functional-Tea-Market-2019-2023-Health-Benefits-of-Functional-Tea-to-Boost-Growth-Technavio
Functional Tea Market- Forecast till 2026
https://www.marketresearchfuture.com/reports/functional-tea-market-3122
Global Functional Tea Market Share
https://www.marketwatch.com/press-release/global-functional-tea-market-share-size-2021-consumption-analysis-by-applications-future-demand-top-leading-players-competitive-situation-and-emerging-trends-and-forecast-to-2026-2021-12-01
Wel-Bloom Bio-Tech, the Taiwan Health Food Expert
Please contact us or our sales to access the full text of the functional foods market article.
Vol.7:A journey to health begins with "San-Yang" culture
Vol5:Staying away from allergens to keep you strong and healthy