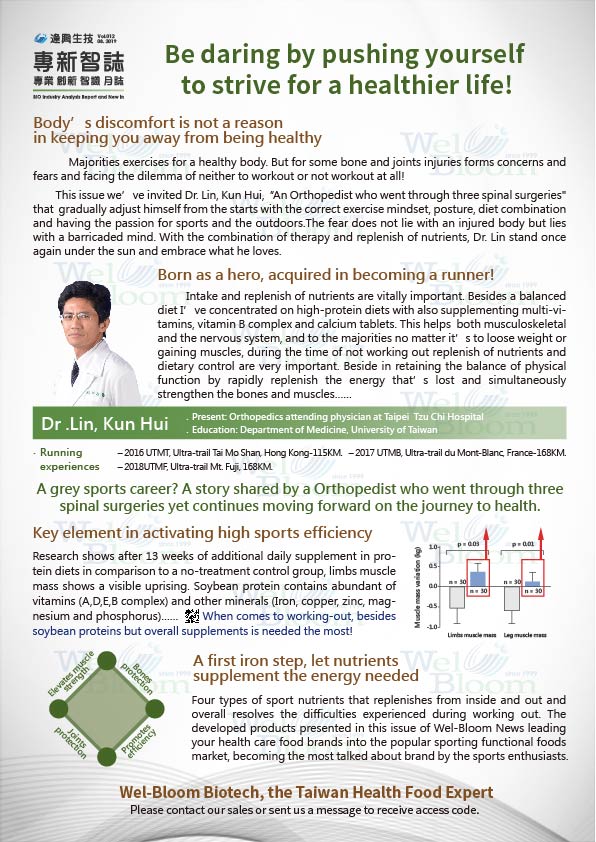 Body's discomfort is not a reason in keeping you away from being healthy
Majorities exercises for a healthy body. But for some bone and joint injuries form concerns and fears and facing the dilemma of neither to workout nor not workout at all! This issue we've invited Dr. Lin, Kun Hui, "An Orthopedist who went through three spinal surgeries" that gradually adjusts himself from the start with the correct exercise mindset, posture, diet combination, and having the passion for sports and outdoors. The fear does not lie with an injured body but lies with a barricaded mind. With the combination of therapy and replenish of nutrients, Dr. Lin stands once again under the sun and embraces what he loves. 
Born as a hero, acquired in becoming a runner!
Intake and replenish of nutrients are vitally important. Besides a balanced diet, I've concentrated on high-protein diets with also supplementing multi-vitamins, vitamin B complex, and calcium tablets. This helps both the musculoskeletal and the nervous system, and to the majorities no matter it's to lose weight or gain muscles, during the time of not working out replenishment of nutrients and dietary control are very important. Besides retaining the balance of physical function by rapidly replenishing the energy that's lost and simultaneously strengthening the bones and muscles……
Lin, Kun Hui
Present: Orthopedics attending physician at Taipei  Tzu Chi Hospital
Education: Department of Medicine, University of Taiwan
Running experiences
2016 UTMT, Ultra-trail Tai Mo Shan, Hong Kong-115KM.

2017 UTMB, Ultra-trail du Mont-Blanc, France-168KM.

2018UTMF, Ultra-trail Mt. Fuji, 168KM.
A grey sports career? A story shared by an Orthopedist who went through three spinal surgeries yet continues moving forward on the journey to health.
A key element in activating high sports efficiency
Research shows after 13 weeks of additional daily supplement in protein diets in comparison to a no-treatment control group, limbs muscle mass shows a visible uprising. Soybean protein contains abundant vitamins (A, D, E, B complex) and other minerals (Iron, copper, zinc, magnesium, and phosphorus)…… When comes to working out, besides soybean proteins but overall supplements are needed the most!
A first iron step, let nutrients supplement the energy needed
Four types of sports nutrients that replenish from inside and out and overall resolve the difficulties experienced during working out. The developed products presented in this issue of Wel-Bloom News lead your health care food brands into the popular sporting functional foods market, becoming the most talked about brand by sports enthusiasts.
Reference resources:
Eight Essential Nutrients for Bone and Joint Health
https://www.craigcgreenemd.com/blog/eight-essential-nutrients-for-bone-and-joint-health
Nutrition and athletic performance
https://medlineplus.gov/ency/article/002458.htm
Wel-Bloom Bio-Tech, health foods development expert in Taiwan.
To know more information, please contact us.
Reading previous supplement industry report EDM: Vol11:A liver protection trend that is short in supply: Your liver is your wealth.