Vol16 : Global sports fever with it economy taking off!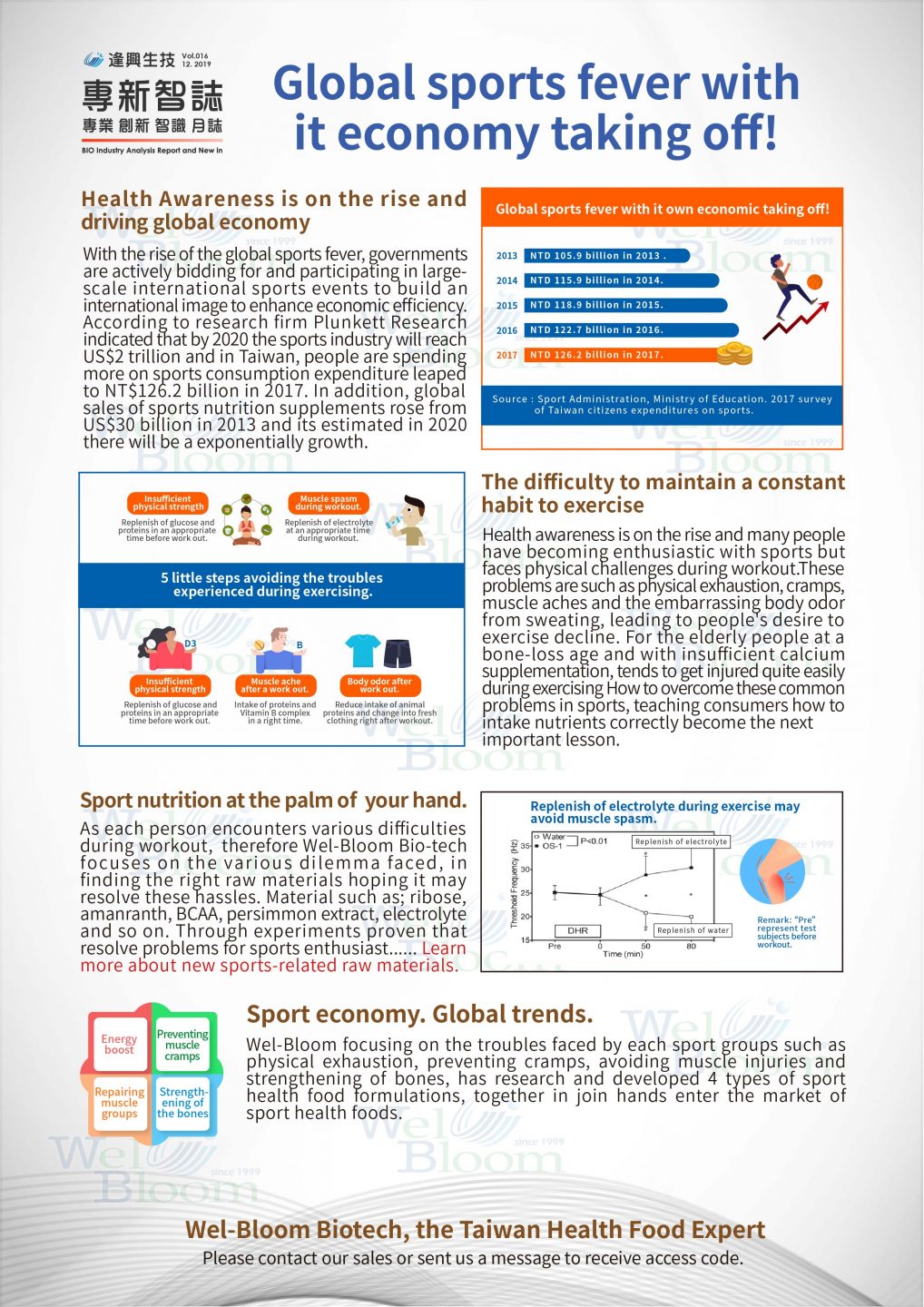 Health Awareness is on the rise and driving the global economy
With the rise of the global sports fever, governments are actively bidding for and participating in large-scale international sports events to build an international image to enhance economic efficiency. According to research firm Plunkett Research indicated that by 2020 the sports industry will reach US$2 trillion and in Taiwan, people are spending more on sports consumption expenditure leaped to NT$126.2 billion in 2017. In addition, global sales of sports nutrition supplements rose from US$30 billion in 2013, and it's estimated in 2020 there will be exponential growth.
The difficulty to maintain a constant habit to exercise
Health awareness is on the rise and many people have become enthusiastic about sports but face physical challenges during workouts. These problems are such as physical exhaustion, cramps, muscle aches, and embarrassing body odor from sweating, leading to people's desire to exercise decline. The elderly people at a bone-loss age and with insufficient calcium supplementation tend to get injured quite easily during exercising How to overcome these common problems in sports, teaching consumers how to intake nutrients correctly become the next important lesson.
Sports nutrition at the palm of your hand.
As each person encounters various difficulties during workouts,  therefore Wel-Bloom Biotech focuses on the various dilemma faced, in finding the right raw materials hoping it may resolve these hassles. Material such as; ribose, amanranth, BCAA, persimmon extract, electrolyte, and so on. Through experiments proven that resolve problems for sports enthusiasts… Learn more about new sports-related raw materials.
Sports economy. Global trends.
Wel-Bloom focusing on the troubles faced by each sports group such as physical exhaustion, preventing cramps, avoiding muscle injuries, and strengthening of bones, has researched and developed 4 types of sports health food formulations, together in join hands enter the market of sport health foods.  
Reference resources:
Plunkett's Sports & Recreation Industry Almanac 2020
https://www.marketresearch.com/Plunkett-Research-Ltd-v1424/Plunkett-Sports-Recreation-Almanac-Research-12603925/
Estimated Size of the Entire Sports Industry, U.S. 2010-2020, Business and Industry Statistics
https://www.plunkettresearch.com/statistics/Industry-Statistics-Estimated-Size-Of-The-Entire-Sports-Industry-US-2010-2020/
Sports and Entertainment
https://www.euromonitor.com/insights/sports-entertainment
Survey on Taiwanese Consumer Expenditure of Sports in 106
https://www.sa.gov.tw/Resource/
Delayed onset muscle soreness: treatment strategies and performance factors
https://pubmed.ncbi.nlm.nih.gov/12617692/
Muscle Soreness After a Workout: Can It Be Prevented?
https://www.houstonmethodist.org/blog/articles/2021/sep/muscle-soreness-after-a-workout-can-it-be-prevented/
Workout Injuries: Prevention and Treatment
https://www.webmd.com/fitness-exercise/guide/workout-injuries-prevention-and-treatment#1
How to Stay Active Forever
https://www.aarp.org/health/healthy-living/info-08-2012/how-to-avoid-injury-during-exercise.html
To know more information, please contact us.
or please send the email to service@welbloom.com.tw, and we will serve you with our full attendance.
To know more information, please contact us.
Reading previous supplement industry report: Vol15: A wonderful life, created with luminous eyes