A Consistent Rise of the Baby Care Product Industry when the Fertility Rate Has Dipped
     Low fertility rates are becoming increasingly normal worldwide. According to the World Population Prospects 2019 report published by United Nations Department of Economic and Social Affairs, the average number of children per woman dropped from 5.5 in 1960 to 2.5 in 2020. The phenomenon of falling birth rates appears to be more significant in the upper-middle income countries, having the number fall below two. Furthermore, Taiwan has the lowest fertility rate in the world at 1.2 children per woman.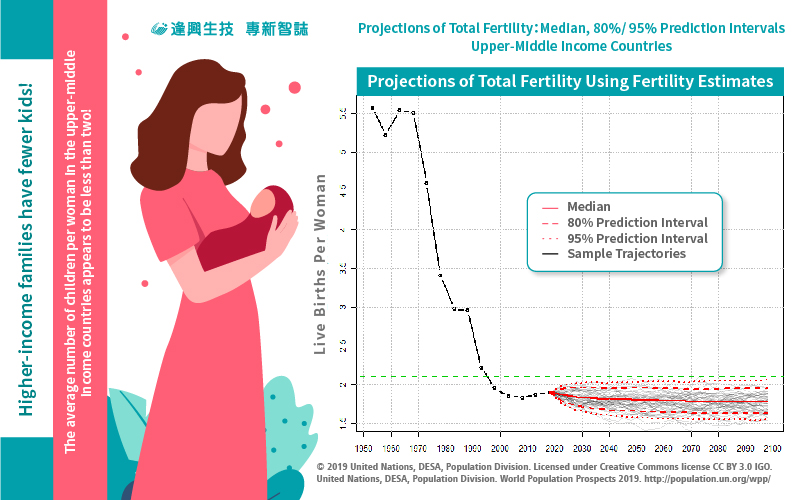 People nowadays care more about the quality of life and hope to start a family after becoming financially stable. The childbearing age has been postponed to an age beyond 30. With the advanced maternal age and recent change in family structure, family sizes are shrinking. Parents are becoming more willing to spend extra money on their only child and the consideration shifts from price to safety, nutritional value, and the packaging design while purchasing baby products. Baby products are trending luxurious and its market growth is expanding against all expectation.
    Having an adequate intake of nutrients is one of the important matters during development. The market of baby products such as infant formula, growing up formula, non-staple food, and nutritional supplements keeps growing annually, showing the increase in purchasing power and the demand for higher quality. The market has been projected to reach a value of USD 25.5 billion by 2025 and the Asia Pacific market is the largest baby product market due to its large population size and the Asian culture of being the protective parents who highly value their children's nutritional intake and wish to have their children win at the starting line.
Reference resources
United Nations Department of Economic and Social Affairs2019
https://population.un.org/wpp/Graphs/Probabilistic/FERT/TOT/1502 
Infant Formula Ingredients Market by Ingredient Type (Carbohydrates, Oils & Fats, Proteins, Vitamins, Minerals, Prebiotics), Application (Growing-up Milk, Standard Infant Formula, Follow-on Formula, Specialty), Form, Source, Region-Global Forecast to 2025
https://www.marketsandmarkets.com/Market-Reports/infant-formula-ingredients-market-198132825.html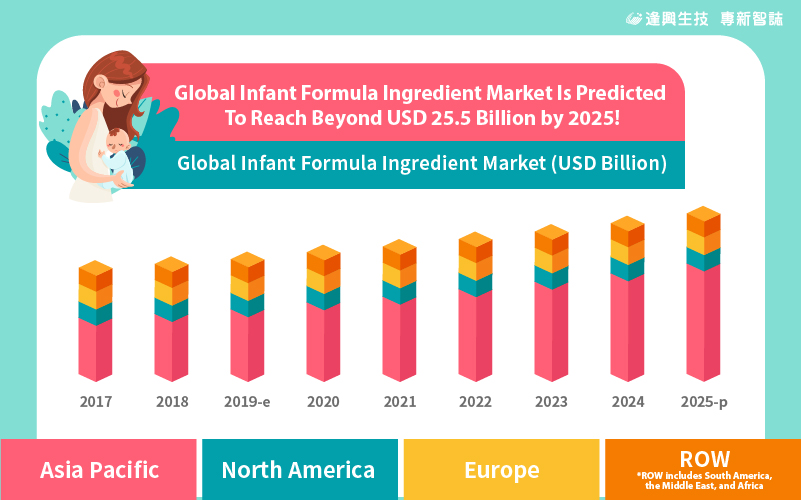 Seize the Critical Period for Healthy Development with Enough Nutrition
     Children undergo the most rapid growth during infancy and the process of growth of most tissue and organs takes place during toddler period, requiring lots of energy and nutrients. The brain grows at an amazing rate during development and children's intelligence profoundly affects their learning and cognitive ability, which needs more replenishment of key nutrients. During infancy, baby formula represents the only food for healthy growth and the diet turns to be more diverse during toddler period. Nurturing healthy dietary habits during this period is highly recommended in Children's Health Booklet. In addition to having enough energy intake, eating a healthy and balanced diet is just as crucial for healthy growth.
    Although the amounts vary, the nutrients needed by children are the same needed by adults which should include grains, vegetables, fruits, dairy, protein, and oil. Besides, eating smaller and more frequent meals, watching the total caloric intake, introducing new foods, and encouraging children to choose healthy food are necessary to prevent them from being the picky eaters.
    All parents know the concept of providing a healthy and balanced diet for their children; however, problems such as children being picky or resistant eaters often occur. Long-term loss of appetite leads to inadequate nutrient intakes which not only affect development, but also weaken immunity. The factors to children having poor appetite may be sickness, excessive snacking, or lack of physical activity. Therefore, nurturing healthy dietary habits, refraining from snacking too much, being physically active, and having a regular sleep pattern will alleviate the condition. Gastrointestinal disorder could be another reason for a child's loss of appetite. Weak digestive functions and low amounts of beneficial bacteria cause the gas buildup in the intestines, leading to flatulence. Besides, poor dietary habits and irregular bowel movements may increase the chance of constipation. These gastrointestinal disorders tend to contribute to children's appetite loss and replenishing adequate amounts of probiotics to maintain healthy intestinal microbiota would aid digestion, absorption, and smooth bowel movements.
    There are plenty of probiotic products with extremely similar formula available in the market. Choosing the products produced by approved and certified manufacturing plants is highly recommended. Palatability is one of the most crucial factors for the probiotic supplements for children, aiming to provide the supplements that are tasty with natural flavorings. As for the product packaging, we utilize the aluminum foil sachets with cut-proof round corners to promote convenience and children's safety.